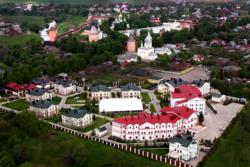 The addition of the BEST WESTERN Art Hotel Nikolaevsky Posad underscores the strength of the Best Western brand, as it is the first internationally branded property in Suzdal. - Suzi Yoder, Best Western VP International Operations
Suzdal, Russia (PRWEB) June 07, 2013
Best Western International, the World's Biggest Hotel Family®, continues its global expansion with the addition of the company's fifth hotel in Russia, the BEST WESTERN Art Hotel Nikolaevsky Posad, in the Golden Ring of Russia, Suzdal.
"The addition of the BEST WESTERN Art Hotel Nikolaevsky Posad underscores the strength of the Best Western brand, as it is the first internationally branded property in Suzdal. We believe that it will be the first of many future Best Western hotels in the historically important Golden Ring. Our pipeline in Russia has additional projects in Ivanovo, Zelenogradsk and Kaluga and highlights our commitment to continue to grow the brand in Russia as well as the other CIS countries," said Suzi Yoder, Best Western vice president international operations.
The BEST WESTERN Art Hotel Nikolaevsky Posad complex is comprised of 8 two-story buildings covering two blocks. The 133 room property has 46 superior rooms in the main building and between 8-11 spacious suites in the other buildings. Each hotel room has a unique design with carefully selected furniture and antiques. The hotel is air conditioned with free Wi-Fi, a mini-bar, bathrobe and slippers in all rooms. Hotel guests can enjoy fitness and spa centre facilities, which include a gym, sauna, Turkish bath, Jacuzzi, massage and beauty treatments.
This three star property offers guests a choice of three different restaurants serving traditional Russian and European cuisines for breakfast, lunch and dinner, and a pub that offers an extensive variety of homemade micro brews. The hotel also features five modern conference rooms, a concert hall, a sports arena that can accommodate 800 people and an Olympic-sized swimming pool.
"For us, joining Best Western represents our commitment to provide our guests with the quality service and amenities they expect and conforms to international standards. Our team has worked hard to meet and exceed these standards and upon successful completion of our Best Western Quality Assessment we are proud to put the Best Western sign over our front door. Being part of the Best Western brand encourages us to become better; with our ultimate goal to be the best tourist complex in all of Russia. With the knowledge, experience, training and guidance provided by Best Western, I am sure we will be successful in the global market," said Mr. Nikolay Braga, owner of the BEST WESTERN Art Hotel Nikolaevsky Posad.
Suzdal, located 250 km northeast of Moscow, is one of Russia's most charming towns and part of the historical Golden Ring of Russia, a collection of historic Russian cities northeast of Moscow and southeast of Saint Petersburg. Along with nearby Vladimir, Suzdal is a UNESCO historical centre with historical and cultural monuments that are unmatched.
BEST WESTERN Art Hotel Nikolaevsky Posad is within walking distance of the city's main sightseeing attractions. An excellent combination of old traditions and modern style makes the BEST WESTERN Art Hotel Nikolaevsky Posad a perfect place for family weekends as well as business events and corporate getaways.
The BEST WESTERN Art Hotel Nikolaevsky Posad marks the brand's fifth hotel in Russia and is part of Best Western's concerted effort to establish a footprint in this very important region. The brand has addition hotels in the CIS countries of Ukraine, Kazakhstan and Moldova.
For more information on development opportunities with Best Western International, please visit http://www.bestwesternrussia.ru/join.
To learn more about this hotel or discover other Best Western hotels across the world, visit http://www.bestwesternrussia.ru .
ABOUT BEST WESTERN INTERNATIONAL, INC.
Best Western International, Inc., headquartered in Phoenix, Ariz., is a privately held hotel brand made up of more than 4,000* BEST WESTERN®, BEST WESTERN PLUS® and BEST WESTERN PREMIER® hotels in more than 100* countries and territories worldwide. Now celebrating 67 years of hospitality, Best Western welcomes hundreds of thousands of guests nightly. Best Western provides its hoteliers with global operational, sales, marketing and promotional support, and online and mobile booking capabilities. More than 15 million travelers are members of the brand's award-winning loyalty program Best Western Rewards®, one of the few programs in which members earn points that never expire and can be redeemed at any Best Western hotel worldwide. The brand's partnerships with AAA/CAA, race car driver Michael Waltrip, and Harley-Davidson® provide travelers with exciting ways to interact with the brand. In 2012, Best Western won a record number of awards, including AAA's Hotel Partner of the Year, CAA's Partner of the Year and Compuware's Best of the Web Gold awards.
For more information or to make a reservation, please visit bestwestern.com.
*Numbers are approximate and may fluctuate.