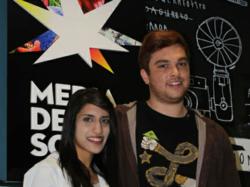 Auckland, New Zealand (PRWEB) June 07, 2013
The AdSchool students, Priya Ratan and Kiran Strickland, have won the World Student Brief category at The Bees Awards, San Francisco for their 'Snapchat with Chile' social campaign.
The challenge was to come up with a social media campaign that encouraged English-speaking students to go to one of four non-English speaking countries (Chile, Thailand, Finland or Costa Rica) on a student exchange.
The team's strategy was for students to use Snapchat to play snap with people from other countries to show both the comforting similarities as well as the exciting differences between cultures.
"A very difficult brief but Priya and Kiran stood up to the challenge, even though it was the very first student competition they'd tackled this year," said Progamme Leader Kate Humphries.
For its fourth year, the Bees Awards received more than 250 social media marketing campaigns from six continents and 23 countries.
About Media Design School
Media Design School is New Zealand's most-awarded private tertiary institution and distinguished by its close alignment to industry. The Auckland-based school offers specialist degrees for emerging creative industries including Bachelor of Art and Design (3D Animation and Visual Effects), Bachelor of Creative Technologies (Game Art), Bachelor of Software Engineering (Game Programming) and Bachelor of Media Design. A range of foundation diplomas and graduate qualifications are also available. Media Design School is part of Laureate International Universities, the world's largest private university group with over 65 universities in 29 countries, including dedicated design schools in San Diego, California, and Santa Fe, New Mexico, USA; Berlin and Hamburg, Germany; and Milan, Italy.