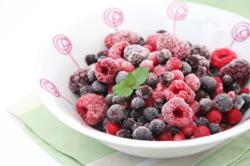 Karen's health is not the only thing at risk in this situation. Her schooling and, ultimately, her career could be impacted by her hepatitis A infection." --Bill Marler
PHOENIX, AZ (PRWEB) June 07, 2013
A woman who alleges she fell ill with a hepatitis A infection and was hospitalized after eating Townsend Farms Organic Anti-Oxidant Blend frozen berry and pomegranate seed mix filed a lawsuit against Oregon-based Townsend Farms Thursday in U.S. District Court in Arizona (Case No. 2:13-cv-01146-MEA). The lawsuit is the third filed by Seattle-based Marler Clark, the nation's leading law firm representing victims of foodborne illness. Jonathan O'Steen of the law Phoenix firm O'Steen and Harrison is co-counsel in this case.
According to the complaint, plaintiff Karen Echard purchased and consumed Townsend Farms Organic Anti-Oxidant Blend in the Phoenix area in April of 2013. Attorneys allege that she fell ill with symptoms of hepatitis A infection including fever, chills, nausea, abdominal pains and jaundice during an illness that started on May 21. The complaint states that Karen sought medical treatment for her illness on more than one occasion and was hospitalized for 5 days. Her attorneys allege that Karen, a healthcare practitioner and student, fears she will lose her job and be forced to discontinue her schoolwork due to her illness, as she continues to experience the effects of her hepatitis A infection.
"Karen's health is not the only thing at risk in this situation," said attorney Bill Marler, who has represented thousands of victims of foodborne illness outbreaks due to hepatitis A, E. coli and other pathogens. "Her schooling and, ultimately, her career could be impacted by her hepatitis A infection."
Marler noted that the lawsuit asks for damages including physical injury, medical and medical-related expenses, wage and lost earning capacity damages.
On June 6, the Centers for Disease Control and Prevention announced that at least 61 people from 7 states had fallen ill with hepatitis A infections in a "Multistate outbreak of Hepatitis A infections potentially associated with 'Townsend Farms Organic Anti-Oxidant Blend' frozen berry and pomegranate mix."
BACKGROUND: Marler Clark has represented thousands of victims of foodborne illness outbreaks, including victims of hepatitis A outbreaks, in lawsuits brought against food companies and restaurants across the nation. Marler Clark has brought food litigation cases involving defective or unsafe food products on behalf of food poisoning victims in all 50 states.