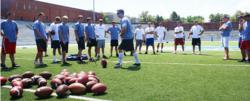 I'm excited to be coming back to Boise and coaching on the blue turf. Billy Cundiff.
Phoenix, AZ (PRWEB) June 07, 2013
NFL Kicker Billy Cundiff will host a Cundiff Kicking Camp at Boise State University, for high school kickers and punters, on June 13, 2013 which will include kicking coaches such as former NFL kicker Michael Husted and Dan Zeidman.
"We have put together a quality coaching staff," says Cundiff. "Michael Husted is one of the best kicking coaches in the country. Two of our coaches - former Bronco kickers Tyler Jones and Kyle Brotzman- are great with the campers. It's fun to watch the campers interact with them. They both had great careers at Boise State. Dan Zeidman is also helping out. He does a great job coaching kickers in the state of Idaho. And Scott Huff, special teams coach for Boise State University, will also be coaching."
"I'm excited to be coming back to Boise," says Cundiff.
Cundiff has a distinguished record as an NFL kicker.
In his 10 year career, Billy Cundiff has played for a number of NFL teams including the Dallas Cowboys, the Cleveland Browns, the Baltimore Ravens and the Washington Redskins.
With the Ravens, Cundiff was voted to the 2011 Pro Bowl as the AFC placekicker and earned Associated Press All-Pro honors after successfully completing 26 of 29 field goal attempts and all 39 point-after attempts (he eclipsed that mark in 2011 with a career-best 122 points for the AFC North Champion Ravens).
From 2010-2011, Cundiff scored the sixth-most points by an NFL kicker (239) and had an NFL-best 84 touchbacks in that time period. During his time with the Ravens, Cundiff made 11 of 12 field goal attempts in the playoffs. For his career, Cundiff is 12/14 in the playoffs. He has kicked 8 game winners in his career.
Kicking coach Michael Husted, who kicked in the NFL for 9 years, says he is excited to be working with Cundiff at the Boise kicking camp.
"I am looking forward to helping Billy coach at the Boise State Kicking Camp this summer," says Husted. "I believe that we will be able to provide expert instruction as well as share our knowledge and experience as NFL players to these aspiring student-athletes. Boise State has a built a great football program and being able to help them evaluate young talent will be only add to the program."
Dan Zeidman, of Lifetime Kicking Academy, will be coaching at the Cundiff Kicking Camp as well.
Zeidman played high school football at Steele Canyon HS (San Diego, CA). He then kicked and punted for Grossmont Community College (San Diego, CA). He was unanimously voted as the All-Conference kicker his freshman year.
In 2005, He earned a full ride scholarship to play at Idaho State University. He locked down the punting duties his sophomore year and did a very credible job. After a hard fought off-season, he won the kicking position as well going into his junior year.
Zeidman punted an 82 yard punt at home his junior year and still holds the longest punt in Holt Arena history. He was selected as a team captain for his senior year and was also selected as an All-American punter that year as well (2007). In 2008, Coach Z signed a free agent contract for the Carolina Panthers. He spent that summer competing for the punting and kickoff specialist jobs.
Cundiff says that all campers at the Cundiff Kicking Camp will learn:

How to make perfect contact on FGs, Punts, and KO
How to kick under pressure
How to find efficient and fluid steps for FGs, Punts and Kos
How to prepare for game day and practice like a pro
How to instruct snapper and holder to work as a unit
How to make a highlight video for college coaches
Go here for more information about the Cundiff Kicking Camp at Boise State.
Go here for more information about Cundiff Kicking.
Go here for more information about NFL kicker Billy Cundiff.