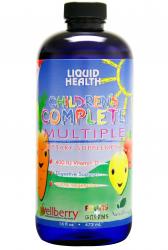 When kids are getting proper nutrition, it has been shown to improve their abilities both mentally and physically.
Murrieta, CA (PRWEB) June 21, 2013
At the end of May, Save the Children announced the findings of a recent study they performed looking at chronic childhood hunger. The study "sheds new light on how missing out on nutritious food can impact a child's cognitive development, and its far-reaching effects on economic growth." A children's multivitamin, such as Liquid Health's Complete Children's Multi, may help to reduce effects by filling in nutritional gaps in a child's diet.
"We feel that this study underlines the importance of making sure kids receive proper nutrition," said Brandon Siggard, Liquid Health Inc's CEO. "When kids are getting proper nutrition, it has been shown to improve their abilities both mentally and physically."
This study reported that children who had suffered from chronic malnutrition were 19% more likely to have trouble reading a simple sentence. These same children were 12.5% more likely to have trouble writing a simple sentence and 7% more likely to make a mistake on a simple math question. These findings were based on a study of thousands of children from Ethiopia, India, Peru and Vietnam.
Liquid Health's Children's Complete Multiple contains:
Vitamin A (as retinol palmitate) 1250iu
Vitamin A (as natural beta carotene) 1250iu
Vitamin C (as ascorbic acid, citrus bioflavonoids) 120mg
Vitamin D3 (as cholecalciferol) 400iu
Vitamin E (as d-alpha-tocopherol acetate) 20iu
Thiamine (as thiamine hcl) (B1) 2mg
Riboflavin (as riboflavin-5-phosphate) (B2) 2mg
Niacin (as niacinimide) (B3) 10mg
Pyridoxine (as pyridoxine hcl) (B6) 2mg
Folic Acid 400mcg
Vitamin B-12 (as methylcobalamin) 15mcg
Biotin 65mcg
Pantothenic Acid (as d-calcium pantothenate) 10mg
Calcium (as calcium citrate and Aquamin® Sea Minerals) 55mg
Iodine (potassium iodide) 50mcg
Magnesium (as magnesium citrate and Aquamin® sea minerals) 25mcg
Zinc (as zinc picolinate) 5mg
Selenium (as selenium amino acid chelate) 10mcg
Manganese (as manganese gluconate) 1mg
Chromium (as chromium polynicotinate) 10mcg
Molybdenum (as sodium molybdenate) 20mcg
Potassium (as potassium citrate) 50mg
Choline bitartrate 20mg
Inositol 15mg
Aquamin® S 44mg
(as Mineralized Red Algae Sea Minerals) (Lithothamnium corallioides/Lithothamnium calcareum) (Whole Plant)
Wellberry™ 205mg
(Vitamin C, Indian Gooseberry Fruit Extract (Phyllanthus emblica), Citrus Bioflavonoids, Vegetable Fatty Acids)
Digestive Health Blend 1225mg
(Fibersol-2 ® digestion-resistant maltodextrin, NutraFlora® ScFOS Prebiotic Blend), Organic Plant Digestive Enzyme Blend (Amylase, Protease, Lipase, Cellulase, Lactase)
Fruits + Greens Antioxidant Fruit and Vegetable Blend 50mg
(extractives of: Banana, kiwi, mango, pineapple, cranberry, cherry, raspberry, red pepper, plum, apricot, ginger, broccoli, spinach, kale, cabbage, orange, grapefruit, lemon, lime, green tea.)
About Liquid Health, Inc.:
Liquid Health, Inc. has been designing and manufacturing liquid vitamin supplements since 1991. All Liquid Health products, including Children's Complete Multiple, are manufactured in a certified-cGMP (current Good Manufacturing Practices) facility, using only premium/qualified ingredients, and are analyzed and tested. All Liquid Health products are made in the U.S.A.
Contact:
Sarah Brimhall, Marketing Associate
Liquid Health, Inc.
800-995-6607
http://www.liquidhealthinc.com