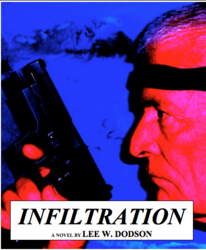 A present day rancher's home is invaded. His wife and son are killed, leaving him with only an elderly aunt who has Alzheimer's. He escapes to a cliff dwelling hideout where a neighbor has also taken refuge.
Los Angeles, California (PRWEB) June 07, 2013
Lee Dodson, author of Infiltration, has just received the latest results from his Homeland Terrorism Survey. And it reflects more bad news for the government's presumed approach to Homeland Security. Initiated on October 15, 2012, the small, and admittedly unscientific, survey to test the pulse of his potential readership as to their present sense of the condition of emergency preparedness in the event of another terrorist attack grew virally from 1,800,000+/- December 2012 to over 16,900,000 as of 6/6/2012, an average of over 2,800,000 per month.
The Homeland Terrorism Survey, an advertising tool and a public view barometer, was advertised on a basis limited to press releases and social media, i.e. Twitter and Facebook. The numbers expanded after the Boston Marathon attack, but grew in the millions over the last two weeks.
"Admittedly, the survey was not scientific," Dodson said. "But the numbers say something. The questions are straightforward. The style is as simple as a conversation."
None of the Mainstream Media has contacted the writer. "I've heard nothing except from smaller venues which have shown an interest and support. Press releases have been widely picked up by these folks, one would think that with numbers like this someone at the Alphabets would have noticed. I've been on several radio outlets to talk about the survey and the books, but these few are the only ones who have paid any attention the statistics which have changed in the last twenty-one days."
Today's view on homeland terror
Do you expect another major terrorist attack on the United States, including Hawaii, Alaska, or any of its territories?
Yes 99.9%+----No .1%-
Do you expect there to be great loss of life?
Yes 99.9%----No .1%
Do you expect a WMD to be used in the attack, i.e. poison gas, biological weapon, nuclear weapon?
Yes 99.4%----No .6%
Do you expect foreign nationals to carry out an attack?
Yes 99.9%----No .1%
Do you think sleeper cells are already in the United States?
Yes 99.9%----No .1%
Do you think you might have to defend yourself from terrorists in this country?
Yes 99.9%+----No .1%-
Do you think the U.S. government will be able to defend against a homeland invasion?
Yes 4%----No 96%
Do you believe that the current administration is truthful about terrorism in this country?
Yes 3%----No 97%
Do you think that we as a nation believe that terrorism is over?
Yes 4%----No 96%
Do you know enough about what to do if a terrorist attack strikes near where you live or work?
Yes 14%----No 86%
"Of course, the book, Infiltration, pivots on this survey," Dodson said. "Or vice versa. They mean something when taken together. I wrote the book as entertainment, and my readers say they can't stop reading once they start. My latest interviewer started the book within minutes of receiving it and called to invite me on his show. We had a great time, and he was particularly interested in the survey, and he wrote a review (see below)."
By David Welch Talk show "Angels and Warriors" host.
http://www.blogtalkradio.com/angelsandwarriors/2013/06/04/books-and-politics
I'm partial to books with a relevant political message. Fiction books with a political message are typically not great for entertainment value but I am willing to accept that, if the political message is one I feel worthwhile.
"Infiltration" definitely has a political message, and an important one. But at the same time it is an exciting adventure story that starts fasts and accelerates to the end. Once I started reading I couldn't put it down and read it in one sitting. I was so thrilled by the story itself that I almost forgot the political message, but it was there in plain sight: Our porous borders, particularly the one in the south, represent a serious threat to the security of our country since they can easily be infiltrated by terrorists looking for a way inside. It is a threat we should not take lightly after 9/11 and more recently after the terrorist attack in Boston.
The story itself involves a group of terrorists taking advantage of our poorly protected border with Mexico and sneaking in a weapon that can do serious damage to the U.S. The only thing standing between them and success is an old rancher who puts up a hell of a fight. Does he succeed in stopping them? Buy the book and find out for yourself. It is a great bargain and $1 from the sale of every copy goes to The Semper Fi Fund which helps needy Marines and their families.
Highly, highly recommended!
Dodson appeared on Gary Sheler's Morning Show (KAAA/KZZZ) in Arizona Feb. 26, 2013 at 7am MST, and expects more appearances to be announced on Conservative talk-radio shows in the next few weeks (TBA). "I'll take anyone that asks," is Dodson's reply. The writer will be discussing the results of the survey.
Dodson's book, Infiltration, is now available at smashwords.com in all formats with a sequel out in June 2013. He is also author of This Never Happened, a story based on the disappearance of the Anasazi race, and his new book, Daylight Raid, is set for release in late April 2013.
"We went for an underground best seller, doing press releases, the survey, using Facebook, Twitter, and getting mentions from very kind bloggers like Glenn Reynolds at instatapundit.com. It looks like it is working because readers are writing me asking for a sequel. It's exciting," Dodson said. "For now, though, the survey of 16,900,000 is important."
Price: $3.33
323-243-0404
vndk8r(at)gmail(dot)com
http://www.skoshitiger.com/
Twitter: @skshtgr11