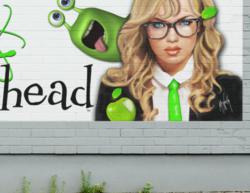 Bubblehead found her apple being nibbled by this very talented & creative internet worm named WRX.
Hollywood, California (PRWEB) June 15, 2013
A new series of Mystery Girl a.k.a. "Bubblehead" street art by artist Mike McNeilly has just been created on the streets of L.A.
The street art & super murals with vital messages are portraits of a beautiful girl named Robyn, nicknamed "Bubblehead." She has a long history of inspiring massive street art, graffiti and wild postings with messages calling for the public to do the right thing on important issues that impact our lives. "PLS DNT TXT + DRIVE", another Bubblehead SuperMural, along with many celebrities such as Oprah Winfrey's "No Phone Zone" and Justin Bieber, have helped send this important message in imploring all of us to not text and drive.
This Mystery Girl a.k.a Bubblehead, created by artist Mike McNeilly, has been painted on the largest Manhattan wallscape on Park Avenue that raised awareness for organizations such as AMFAR, Project Angel Food and APLA. Her messages have been displayed on the Aircraft Carrier Intrepid in conjunction with the NYPD to give runaway kids a chance to call for help.
On the Sunset Strip in Hollywood, the massive street art has reached out to "Stop the Violence, Save the Children", from guns, bullies, child abuse and drugs. She has also asked for support by the public for local organizations such as Hollygrove Orphanage, L.A.'s first orphanage and where Norma Jean Baker a.k.a Marilyn Monroe lived as a child, as well as Children of the Night, a private non profit organization dedicated to assisting children between the ages of 11 and 17 on the streets helping them with food to eat and a place to sleep.
The art was inspired by Bubblehead and her "Rocket Science" style when she encountered an aggressive internet worm she calls "WRX", that was invading her privacy.
Her analysis, "An Internet worm is a type of malicious software that self-replicates and distributes copies of itself to its network. These independent virtual worm viruses spread through the Internet, break into computers, get embedded in software and penetrate most firewalls. Internet worms can be included in any type of virus, script or program. These worms typically infect systems by exploiting bugs or vulnerabilities that can often be found in legitimate software. Internet worms can spread on their own. This makes them extremely aggressive and dangerous."
Lucky for all, Bubblehead takes a byte and catches this worm.
http://instagram.com/bubblehead13#
https://www.facebook.com/pages/Bubblehead/402655229812471