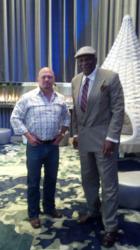 I believe by spreading awareness we can save lives.
Phoenix, AZ (PRWEB) June 07, 2013
David Gergen, President of Gergen's Orthodontic Lab and Pro Player Health Alliance (PPHA), will be teaming up with NFL Hall of Famer Carl Eller and the Retired Players Association (RPA), to "Tackle Sleep Apnea". PPHA will be the official screening company for retired players at two special events that will provide support for retired players as well as help spread awareness of the deadly disorder, Obstructive Sleep Apnea (OSA) in the community.
David Gergen says, "Spreading awareness at these events and screenings and through radio and television has been wonderful. I believe by spreading awareness we can save lives."
Although the RPA's main focus is centered around Alzheimer's and ALS in former players directly related to repetitive head trauma, this event is a great way to give back and help the legendary players that made America's sport into the amazing game that it is today by diagnosing and treating them for OSA that will change their lives forever.
The goal of PPHA is to ultimately help the community by decreasing the amount of individuals that go undiagnosed through assisting medical partners in growing their practices as well as treating as many former professional athletes as possible. Pro Player Health Alliance has treated over 150 former NFL players to date.
About Pro Player Health Alliance
The Pro Players Health Alliance (PPHA) is an organization dedicated to helping former NFL players, through providing testing and treatment options for those who suffer from OSA. In addition, the PPHA is dedicated to integrating education and raising sleep apnea awareness, in a fun and memorable way. In addition to the campaign, the PPHA is dedicated to testing and getting people treated who suffer from sleep apnea. The PPHA was created by David Gergen, President of Gergen's Orthodontic Lab and Former NFL legends. To follow the latest on Pro Player Health Alliance, visit http://www.facebook.com/proplayerhealthalliance
About David Gergen
David Gergen, CDT and President of Pro Player Health Alliance, has been a nationally respected dental lab technician for over 25 years. He received the award for "The Finest Orthodontic Technician in the Country" given by Columbus Dental in 1986. He also has been appointed chair of the dental wing of the American Sleep and Breathing Academy, a national interdisciplinary academy dedicated to sleep training and education with over 60,000 members. He has worked for some of the pioneers in the orthodontic and sleep dentistry fields. One of his proudest achievements is receiving The National Leadership award for Arizona Small Businessman of the Year in 2004.