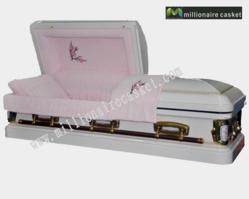 (PRWEB) June 07, 2013
MillionaireCasket.com is the world's leading casket company. Recently, the business has announced its metal casket sale, and the promotion will be valid until June 30, 2013.
MillionaireCasket.com has been a leader in the industry for many years, manufacturing various types of metal caskets. The company understands the feelings of its clients and knows well that caskets are the one last thing one can provide to the departed ones. The comprehensive ISO9001-2000 compliance quality control program allows the company to supply good caskets for customers worldwide. As a well-known China casket manufacturer, MillionaireCasket.com is proud of providing high-quality caskets for the people worldwide.
The metal caskets come in 16, 18, or 20 gauge, and all of them come with intricate designs and secure locking systems. They are treated with chemicals to safeguard them from rusting or corroding. The caskets can be ordered in any desired measurement and weight. Simple ones are also available as well as designed ones. Moreover, the company provides OEM services to clients as well.
"We are happy the launch the promotion to show appreciation to customers who continuously provide a positive feedback," said a spokesman for the company. "We have much experience in the industry. The metal caskets are available for online sale now with proper warranty coverage. Please note that the special offer will end at the end of this month."
Moreover, MillionaireCasket.com is also involved in casket wholesale business. Along with caskets, it also offers several other products related to funerals. Hence, it is a one stop funeral supplier.
MillionaireCasket.com is a China based company supplying several different types of caskets and all sorts of funeral material. It is a one stop shop for buying high quality reliable funeral products.
More information can be found at http://www.millionairecasket.com/.