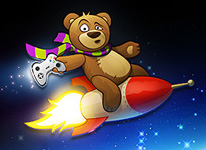 (PRWEB) June 10, 2013
The company has turned its attention to the global community of non-English speaking gamers. GamesPub Ltd has set out to translate its website into other languages to ultimately meet the peculiarities of the worldwide audience and enrich the catalogue with new casual games.
GamesPub Ltd. has recently launched same-name Spanish, German, French, Russian, and Portuguese portals endeavoring to explore more specific, regional markets. The company is planning on translating its entertainment portal into other languages as well. All localized website content is legally granted and 100% free of viruses.
GamesPub Ltd. warmly welcomes all online and downloadable game lovers to share their impressions and suggestions on ToomkyGames official pages: Facebook, Twitter, and Google+ as well as stay informed on fresh game releases. For exclusive news, offers, and informative reviews – subscribe to the free newsletter at toomkygames.com.
About GamesPub Ltd:
GamesPub Ltd is a fast-developing publisher of casual games. The company is specifically devoted to providing legal online and downloadable full version games for free and at the same time is open to collaboration with other game developers and publishers. Casual games on the company's website are notable for addicting gameplay, colorful graphics, and unique features. They are free and safe to play.