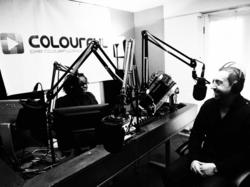 Your ethnicity, your sexuality or gender doesn't matter. You are a superstar.
London, UK (PRWEB UK) 10 June 2013
Steve Hutson, founder of innovative staffing company Superstars returned to Colourful Radio this week to appear on Colourful Life with Jaxx Shepherd. This time, Jaxx and Steve discussed the problem of discrimination in the workplace and even discrimination that can prevent someone from joining the workplace in the first place.
Jaxx wanted to talk about the recent case of a Liberian man who took Virgin Atlantic to an employment tribunal, alleging that they rejected his CV using his real name - Max Kpakio - but granted him an interview when he applied with almost the same CV under the name "Craig Owen".
"I spoke to five HR directors before coming on the show," Steve told Jaxx, "Discrimination is a very taboo subject because they have to work very strictly within the law."
"It is very difficult to ensure that any discrimination is not going on with so many CVs going through. I think it isn't necessarily intentional discrimination based on creed, colour or anything like that but it often comes down to people not having enough time, so they end up whizzing through CVs and they use names as a shortcut - and that's wrong. They are thinking 'culture fit' and that's just not right."
"You have to give time. Recruitment does not give time to people and that's what we're trying to change."
The Kpakio case was dismissed, but Steve wanted to ask - "what if it WASN'T dismissed?"
"There would be so many radical changes going on. The whole industry would be radically changed. It would have to be."
Jaxx asked Colourful Radio listeners to call in or contact the show via Facebook and share any personal experiences of discrimination in the workplace or during recruitment and she received a number of powerful and shocking responses from black listeners who had been excluded from interviews until they 'whitened' their names as well as people who had experienced direct discrimination in the workplace once they were in a role.
Jaxx too had come across this kind of discrimination during a previous job in recruitment for a large company. "I was literally told, 'Don't shortlist people whose names are foreign as it is likely that they won't be able to speak properly on the phone'," she told an astonished Steve Hutson.
Steve's advice if you aren't sure why you aren't getting interviews was initially to simply ask for feedback. "It is very difficult to get feedback from people but try to be persistent," he told Jaxx. "Call them, send an email - you deserve to have feedback."
"As individuals, if you see something wrong in a recruitment process or if you are in a job and you are being bullied or whatever - talk to somebody. It's really important," he continued.
"Discrimination is going on in the workplace. If you see it, fight it. There is plenty of legislation there to protect you.
"Your ethnicity, your sexuality or gender doesn't matter. You are a superstar."
Steve Hutson will be back on Colourful Life next month. You can listen live via the Colourful website http://www.colourfulradio.com/presenter/jaxx/ or catch up with Steve's previous appearances on the Superstars YouTube channel http://www.youtube.com/user/homeofsuperstar.
Superstars is based on a unique new staffing model that eliminates fees and margins forever. Clients work with Talent Managers to get the best staff for their needs and the Talent get amazing opportunities and the best support and mentoring in the industry.
Superstars' clients include BSkyB, Orange, Infosys and Radical Company with more being added all the time.
To find out more about Superstars' unique staffing model and how it can transform the way you hire staff, contact Steve Hutson - steve(at)homeofsuperstars(dot)com or visit http://www.homeofsuperstars.com