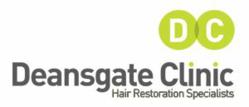 This new diagnosis technique could help millions of men around the world.
London, United Kingdom (PRWEB UK) 8 June 2013
The medical professionals at Deansgate Clinic have launched a new service helping sufferers of hair thinning and loss determine how best to treat their problem. Using photo-recognition technology, hair loss sufferers will be able to compare their balding head to examples on to the Deansgate Clinic website and await a diagnosis. After receiving the diagnosis; users will then be granted information regarding the best course of action to take in order to slow their rate of hair loss or stop the process completely.
The experts at Deansgate Clinic have examined the patterns of baldness exhibited by men for decades to increase their knowledge of male pattern baldness. This has helped their consultants and medical practitioners understand the causes of individual hair loss cases and enable them to diagnose baldness accurately and efficiently.
Deansgate Clinic hopes that this system will allow sufferers of baldness and the thinning of hair to receive effective treatment in a quick and efficient manner. Without full and correct diagnosis, sufferers may be subjected to years of incorrect treatment. In many cases, the longer that balding continues without correct treatment, the harder it is to reverse the effects; this makes it imperative to diagnose the problem as quickly and swiftly as possible.
The system is based around the classic diagnosis standard in male pattern baldness: The Norwood Male Pattern Baldness Classification System. The system investigates the different patterns of baldness that are commonly suffered measuring the frontotemporal hairline recession, hair loss in the vertex and the severity of these cases. The Male Pattern Baldness Classification System also measures cases where hair loss is suffered in a combination of more than one common area of baldness.
Once the medical professionals at Deansgate Clinic have ascertained the severity and type of baldness suffered, they will be able to recommend whether to proceed with surgical or non-surgical treatment. The surgical FUE hair transplant treatment moves healthy hair follicles to areas of the head that need it the most. Some cases of male pattern baldness do not require surgical treatment and can be treated with prescription products such as Minoxidil 12.5 or Propecia.
About: Deansgate Clinic operates out of the prestigious and world-renowned Harley Street, London and has offices in Manchester and Edinburgh where the team of highly trained medical staff carry out their discreet and professional service.