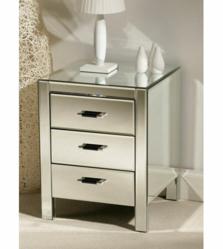 (PRWEB UK) 8 June 2013
FurnitureInFashion has been selected by Peter Andre, the new host of the show, to provide furniture. 60 Minute Makeover is a daytime hit show, watched by enthusiastic homeowners and designers. For the makeovers, host Peter will lead a team of designers and skilled workmen, traveling around the UK transforming homes by solving design dilemmas with incredible home makeovers. Peter Andre is a pop music artist and reality TV star. As a well known celebrity, his presence in 60 Minute Makeover will give this show more viewer appeal. By supplying furniture to 60 Minute Makeover, FurnitureInFashion have found a platform to showcase their products throughout the world.
The CEO and Managing Director of FurnitureInFashion said, "FurnitureInFashion are very excited about being chosen as the supplier of furniture for 60 Minutes Makeover. This daytime show has been very successful in the UK, as it offers unique and innovative home improvement ideas. With the presence of Peter Andre, the show is expected to be even more popular with the viewing (and buying!) public. This is going to give even more exposure to the contemporary modern furniture provided by FurnitureInFashion. All the furniture used will also be available to the public."
FurnitureInFashion supplied a three drawer mirrored chest and a solitaire clear glass nest of tables to 60 Minute Makeover. The three drawer mirrored chest is one of the latest additions to the innovative range of designs offered by FurnitureInFashion. It has a beautiful mirror finish that adds a sparkling impact to any bedroom. It has three spacious pull-out drawers, perfect for that extra storage room. The mirrored chest has a wide top, useful for display and easy access. The chest of drawers is in a striking design that combines utility with visual appeal for the discerning buyer.
FurnitureInFashion also supplied a nesting set of three solitaire clear glass tables to 60 Minute Makeover. These are ideal tables for any living space. To provide sturdy support and safety, tempered safety glass has been used for these tables. The tables provide ample space to display decorative items and to serve as occasional tables as well. The CEO of FurnitureInFashion said, "We at FurnitureInFashion continuously update our furniture catalogue and hold above 90% of the featured products in stock. The company also offers free home delivery service within the UK. By teaming up with such a successful daytime show as 60 Minute Makeover, the company will be able to make an enormous impact on people with our extensive contemporary furniture product lines."
To have a look at affordable, yet cutting edge furniture online and to place a pre-stock order, please visit the company website today at http://www.furnitureinfashion.net. The range of value-for-money furniture presented on the website is huge, delivery is fast, savings are massive and quality is guaranteed.
About FurnitureInFashion
FurnitureInFashion is a UK based online retail business. It supplies furniture items from its German based warehouse and has a showroom in Bolton, UK. The company provides everything from umbrella stands, wall art and room dividers to bedroom furniture, bar stools and computer tables. FurnitureInFashion offers excellent free delivery within the UK and has fantastic customer service. For further information and details, please visit http://www.furnitureinfashion.net