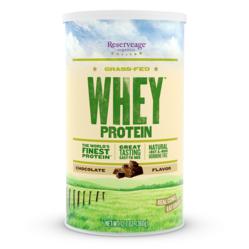 Gainesville, FL (PRWEB) June 10, 2013
Consumers who supplement with protein help ensure they are meeting their daily requirements. A great tasting protein powder helps ensure they drink it. Reserveage™ Organics Grass-Fed Whey Protein™ Chocolate Flavor has earned the right to be called great tasting. This 100 percent grass-fed whey from naturally raised, pasture-fed cows has earned a 2013 "Superior Taste Award" from the International Taste & Quality Institute (iTQi).
Reserveage Organics previously won the iTQi "Superior Taste Award" for its RE-BODY® SafSlim® Tangerine Cream Fusion flavor in 2011.
The iTQi "Superior Taste Award" is the only stamp of quality in taste granted by food and drink opinion leaders that are Michelin-starred Chefs and Sommeliers. They represent the most prestigious culinary institutions in Europe, including the Maîtres Cuisiniers of France, the Académie Culinaire de France, the Academy of Culinary Arts, Euro-Toques, the Federazione Italiana Cuochi, the Jeunes Restaurateurs d'Europe, the Associaciones des Cocineros de España, the World Master Chefs Society, the Verband der Köche Deutschlands as well as the Association de la Sommellerie Internationale (ASI) for drinks.
Of 1,239 products tested from around the world, Reserveage Grass-Fed Whey Protein Chocolate Flavor was one of only 14 U.S. products the iTQi jury honored.
Like the famous Michelin guide of gastronomy, iTQi does not organize a competition but rewards products on their own merits. Only products that earn a mark superior to 70 percent are granted a "Superior Taste Award."
Members of the iTQi jury are asked to taste each product as if they were enjoying their own homes, and not according to their restaurant standards. Taste is a sensory experience, so their rigorous analysis includes not only taste, but also aroma, appearance and after-taste.
Reserveage Organics believes that the highest quality whey comes from cows allowed free access to the outdoors and is made from GMO-free milk These cows are not treated with synthetic growth hormones such as rBGH or antibiotics†. Reserveage Organics' philosophy is that "Real Cows Eat Grass™."
Grass-Fed Whey Protein is made using an undenatured low-heat process and has been assayed to reveal non-detectable levels of pesticides, herbicides and fungicides.
Microfiltered in an easy-to-mix fine powder, the Chocolate Grass-Fed Whey Protein contains 21 grams of protein per serving and naturally sourced ingredients, and also comes in vanilla. The powder is gluten and soy free and does not contain artificial flavors or colors, or added sugar.
For more information about the "Superior Taste Award," visit http://www.itqi.com or contact Steve.Gibas(at)itqi(dot)com
About Reserveage™ Organics
Inspired by the wisdom of nature and the healthiest cultures around the world, Reserveage Organics aims to provide high-quality, science-driven products that deliver life-changing benefits. We know nature is a powerful and abundant source, so we travel the world in search of the finest natural ingredients. The philosophy that inspires us to enhance the relationship between science and nature drives the formulations we create using clinically researched ingredients with demonstrated results. We strive to provide the world's most advanced and innovative nutritional supplements that deliver the promise of supporting optimal wellness. We are devoted to providing naturally sourced ingredients in authentic formulas.*
For more information about the Reserveage Organics complete line of nutritional supplements, call 800.553.1896 or visit http://www.reserveage.com.
†There is no significant difference between milk from cows treated with rBGH and untreated cows.