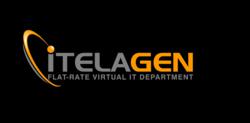 "Packaging our support and services with IMO (Problem (IT)™ Terminology) is going to make using EHR simple and efficient, and is a must-have for any practice", says John O'Keefe, Chief Executive Officer of ITelagen.
Jersey City, NJ (PRWEB) June 12, 2013
ITelagen, a technology IT support service that specializes in the healthcare industry, announced that it is partnering with Intelligent Medical Objects, Inc. (IMO), developers of the most widely-used and physician-preferred terminology service for electronic health records (EHR) systems, to provide clients with the most current medical terminology services. IMO provides terminology packages and products that integrate with Electronic Health Record (EHR) applications to assist with simple and easy medical terminology coding. This Solution provides healthcare and industry clients with ICD-10 and Meaningful Use Stage II-ready diagnosis terminology and content mappings for effective and simplified data recording.
ITelagen will market its support and services packages with IMO® Problem (IT)™ Terminology effective June 1, 2013 to current and prospective clients. "Packaging our support and services with IMO (Problem (IT)™ Terminology) is going to make using EHR simple and efficient, and is a must-have for any practice", says John O'Keefe, Chief Executive Officer of ITelagen.
The IMO database includes over 260,000 clinician-friendly terms, a vocabulary maintenance website, as well as target terms for clinicians, coders, and patients. IMO Problem (IT)™ Terminology receives ten updates per year, reflecting regulatory changes, community feedback and IMO's normal terminology improvement cycle ensuring that their client base stays current with the latest evolution in medical terminology. In addition, AHIMA provides advisory services to IMO on ICD mappings.
"We are happy that ITelagen is adopting IMO solutions for their user community. As more vendors recognize the responsibility to capture and preserve the clinical intent, they can use IMO interface terminology to comply with regulatory code sets (ICD9, ICD10 SNOMED CT® and others). This way, everyone wins! The doctors' documentation reflects what they said and will never be changed. Patients know exactly what their doctors are thinking about their conditions, the administrator gets the billing code and clinical organizations will have clear picture of the risk of the populations they serve," said Frank Naeymi-Rad, PhD, MBA, the Chairman and Chief Executive Officer of IMO.
To use the system, all medical providers need to do is click in a diagnosis field. For instance, if a doctor wants to look up the coding for "lower back pain," he or she can type in abbreviated terms like "lo ba pa". Due to the inclusion of IMO® Problem (IT)™ Terminology, the new system is able to recognize even a few letters and pull up whole terms and key words. "Lo ba pa," is identifiable for "lower back pain" and pulls up a variety of codes from which a clinician can select that best describes the patient encounter including:
•Low back pain (724.2)
•Low back pain radiating to both legs (724.2)
•Low back pain radiating to left leg (724.2)
•Low back pain with sciatica (724.2)
•…and more.
Additionally, ITelagen will continue to include EHR licenses, integrated solutions, implementation, hosting, and support as part of the packages offered. According to ITelagen, this "one-stop shop package for EHR" provides a medical practice with a full-spectrum platform that ensures the technology is accurate, efficient, and current with clinical and technical terms within the industry.
ITelagen is a cloud-based technology support IT service that monitors and hosts infrastructures for the healthcare, financial, and small business industries. The service provides onsite and remote technical support, manages EHRs to organize medical records and bills, coordinates and submits medical claims and insurance collections, and allows medical staff to send scripts online.
The staff of ITelagen is composed of security engineers, computer technicians, certified network administrators, and more to support infrastructures at a fraction of the cost of an in-house IT team.
About ITelagen:
ITelagen® redefines Healthcare IT for medical practices by providing EHR as part of an entire back-office solution that includes unlimited onsite & remote technical support for all of your staff and secure hosting of your patient data. We are more than just desktop technicians, but a complete technology team made up of CIO's, engineers, and healthcare EHR experts. With ITelagen, you can have all the benefits of your very own fully-staffed IT Department, without the expense of an in-house staff. By combining IT, hosting and certified EHR experts, ITelagen becomes the single point of contact and "One-Stop Shop for EHR" for IT and EHR infrastructure, all for a flat monthly subscription fee. For more information, visit ITelagen on the Web at http://www.itelagen.com. Follow ITelagen on Twitter at https://twitter.com/ITELAGEN, Facebook at http://www.facebook.com/itelagen, or LinkedIn at http://www.linkedin.com/company/itelagen.
Contact:
Emile Ondrus
ITelagen, Inc.
201-239-8405
press(at)itelagen(dot)com
About Intelligent Medical Objects (IMO):
IMO provides the most widely-accepted medical terminology solution for the development, management, and licensing of medical vocabularies and software applications at healthcare organizations worldwide. IMO's terminology database is used by over 2,500 hospitals and 350,000 physicians daily, and physicians report greater satisfaction with their EHR after switching to IMO. IMO's medical vocabulary and mapping products effectively capture clinical intent and help EHRs preserve and communicate this across the entire spectrum of care. This accelerates workflow and increases clinician utilization and satisfaction. The accuracy of IMO's interface terminology was found to be 'nearly perfect' by an independent study published by the Centers for Disease Control. Read more at http://www.e-imo.com. Contact us at press(at)e-imo(dot)com.
IMO and INTELLIGENT MEDICAL OBJECTS are registered trademarks of Intelligent Medical Objects, Inc. All rights reserved.