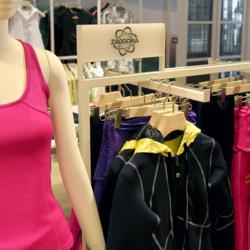 "There's nothing quite like the feeling of squeezing into a new pair of jeans, so we're looking forward to helping Selfridges customers shape up for summer and achieve their dream jean figure
(PRWEB) June 08, 2013
UK activewear brand Zaggora will have shoppers at iconic London department store, Selfridges, feeling the heat and embracing colour this summer when they visit the new Denim Studio sportswear space at the Oxford Street flagship store.
The sports-wear space which officially opened on Monday, in time for notorious bikini season, acknowledges the continuing trend of Sports Luxe clothing, a fashion that looks very much as though it is here to stay. The range of Zaggora's Hotwear showcased includes Flares 2.0, HotPants™ 2.0, a selection of HotTops, Body Blazers and the new, vibrantly coloured Viva Capri HotPants™.
The new Viva Capri feature a new flattering design, including a stylish LYCRA® foldover waistband that compliments any body shape, and are available in four rich, berry inspired colours (Blue, Purple, Light Purple and Pink), chosen by Zaggora's 400,000 Facebook fans.
Founder of Zaggora, Dessi Bell, says, "Zaggora is all about helping women look and feel great during their workout and maximising the results of their efforts.
"There's nothing quite like the feeling of squeezing into a new pair of jeans, especially when they're a size or two smaller than your usual favourites, so we're looking forward to helping Selfridges customers shape up for summer and achieve their dream jean figure."
Since launching two years ago, Zaggora has revolutionised active-wear with its range of HotPants™, HotTops and Body Blazers featuring patent pending Celu-Lite Technology™ which raises calorie burn through increased safe heat generation by the human body, maximising your workout results.
The selection of Zaggora activewear including the new Viva Capri, will be priced from RRP £50 and is available for purchase from now until August 18 in the new Denim Studio, Third Floor, Selfridges, Oxford Street.
The full range of Zaggora products are also available for purchase online at http://www.zaggora.com
- Ends-
For further information on Zaggora please contact:
Kathryn McAuley – Head of Press
Kathryn(at)zaggora(dot)com
DDI - 020 3657 4442
MOB - 07 4715 090 568
Anna-Louise Hoffmann – PR Manager
Anna-Louise(at)zaggora(dot)com
DDI – 020 3657 4431
MOB – 07 455 618 143
NOTES TO EDITORS
ABOUT ZAGGORA
Zaggora creates smart products for smart women, which are designed to fit easily into every woman's lifestyle no matter how busy they are – helping them lead happier, healthier and better lives. The company is the brainchild of 28-year-old ex-Investment Banker Dessi Bell, who came up with the concept after she struggled to find an effective solution to get in shape and tone up in time for her wedding. After being disappointed with so many other products in her quest to shape up, Dessi decided to design her own product that would look good, be easy to use and give genuinely effective results for all women, from on-the-go mums to time-poor high fliers. After extensive research and experimentation, Zaggora HotPants were born.
Since the launch of the brand in July 2011, over 600,000 Zaggora products have been sold in 126 countries around the world and the company has been nominated for awards including the Retail Week Technology Awards, the Drapers and Retail Week PayPal Etail Awards. At the 2012 National Business Awards, the company took home the accolade of 'E-Commerce Strategy of the Year'. As founder of Zaggora, Dessi Bell has been named as one of Management Today's 2012 35 under 35, was shortlisted for the 2012 Specsavers everywoman Awards and Shell's 2012 Women of the Future Awards.
Zaggora now offers a complete range of 'Hot' workout wear for the upper and lower body, which has been joined by a premium bodycare range and a line of stylish casual wear. Later this year Zaggora will launch its first range of menswear and a range of chic active-wear designed for all bodyshapes.
Independent research on the effects of Celu-Lite technology, as used in HotPants, was conducted at the Chelsea School of Sport, University of Brighton between October 2011 and September 2012. The research compared HotPants to a standard exercise garment when worn during 30 minutes of exercise, and also examined the effects over longer 2 and 4 week periods. The findings revealed:
HotPants were shown to increase body temperature during exercise*
Wearing HotPants during at least 30 minutes of exercise increases energy expenditure by 11.3% *
Furthermore, HotPants increase energy expenditure by 12.5% in the 30 – 60 minutes after exercise (when HotPants are worn during resting recovery)*
Over a four week period, HotPants were shown to increase weight loss, with each subject losing an average of 0.6kg, which was a trend not seen in the control group **
In order to see benefits from HotPants, at least 30 minutes of activity conducted with at least moderate intensity is required.
13 people tested in HotPants, and 13 people tested in control garment for acute physiological response to 30 mins exercise and 60 mins rest whilst still wearing garment.
** 14 people in total tested in a 4-week exercise study on effects of HotPants vs. a control garment when used in conjunction with exercise.
Zaggora commissioned a second independent study on its Hotwear carried out by ETScience based at the University of Southern California between September 2012 and January 2013.
The testing was conducted on 30 subjects who were tested in the Zaggora Hotwear range and control exercise clothing by varying exercise intensity to reach a desired heart range. Testing revealed that:
Subjects exercising in Zaggora had to exercise at 23% smaller incline and 3% less speed, which translated to a statistically significantly higher calorie expenditure (6% on average, up to 18%) during 30 minutes of exercise.
A further study retested 10 subjects in both Zaggora Hotwear and control garments at a constant speed to ascertain whether the results held when the exercise was performed at a constant speed. Testing revealed that:
Subjects wearing Zaggora Hotwear were found to be burning a statistically significant 9.7% more calories during 30 minutes of exercise when compared to subjects wearing control wear.