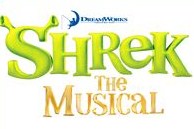 the production is an area premier of SHREK The Musical by CCTa's nationally-recognized Teen Professional Theatre.
Columbia, MD (PRWEB) June 18, 2013
The Columbia Center for Theatrical Arts' (CCTA's) Teen Professional Theatre presents the area premier of SHREK The Musical July 18-21 at Glenelg High School.
Based on the Oscar®-winning DreamWorks film that started it all, SHREK is the hilarious story of everyone's favorite ogre brought to life on stage. In a faraway kingdom turned upside down, things get ugly when an unseemly ogre – not a handsome prince – shows up to rescue a feisty princess. Throw in a donkey who won't shut up, a villain with a short temper, a cookie with an attitude and over a dozen other fairy tale misfits, and you've got the kind of mess that calls for a real hero...SHREK!
CCTA's Teen Professional Theatre is an audition-based summer program for advanced musical theater students ages 13 to 21.  This summer, 42 young actors of all backgrounds – nearly one-third of them on full or partial scholarship – will spend four weeks developing their individual theatrical skills through one-on-one, ensemble rehearsals and intensive workshops with guest artists.  It culminates in six public performances of the selected musical production. The program is a recipient of five grants from the National Endowment for the Arts.  
The production is under the direction of Actor/Director Kevin McAllister. CCTA's Founder and Artistic Director is Toby Orenstein. It is sponsored, in part, through a generous donation by M&T Bank. SHREK is presented through special arrangement with Music Theatre International (MTI).
Tickets are available online at http://www.CCTArts.com or at the door. For more information, contact Melissa Rosenberg at 410-381-0700 or MelissaRosenberg[at]CCTArts[dot]com.
Performances at Glenelg High School in Glenelg, MD July 18, 19 and 20 at 7pm; July 20 and 21 at 2pm
Special Matinee July 19 at 10:30am for Camps & Preschool Groups
Tickets available online at http://www.CCTArts.com or at the door. 
$20 General Seating $17.50 Seniors/Students/Military
Group of 10 or more $15 ea. July 19th Matinee $8 for groups of 10+