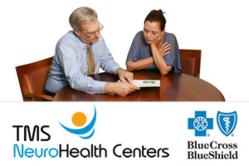 We are excited to provide BCBS members with the opportunity to utilize TMS therapy for their battle against Major Depressive Disorder
McLean, VA (PRWEB) June 11, 2013
TMS NeuroHealth Centers, a leading provider of TMS therapy to patients located in the Washington DC Metro Area, Virginia, and Maryland, is pleased to announce that it is now accepting Blue Cross Blue Shield ("BCBS") in order to make this groundbreaking treatment available to a broader range of patients suffering from Major Depressive Disorder.
TMS therapy is a non-drug, non-invasive and FDA-cleared medical treatment for patients suffering with depression. It uses highly focused magnetic pulses to gently stimulate the area of the brain that controls mood. This specific area has been identified as underactive in people who suffer from depression. Stimulation leads to the release of chemical neurotransmitters, relieving the symptoms of depression. Each treatment is a 30-40 minute outpatient procedure; typically administered five days a week for 4-6 weeks in its acute phase. TMS Therapy is a proven form of treating depression when patients are suffering from side effects of medication and have not benefited from initial antidepressant medication.
BCBS coverage for TMS therapy could include Empire Blue, Federal Blue Cross, and some CareFirst Blue Cross plans. If this is not one of our patient's carriers, the cost of therapy may be recoverable from various sources including private insurers, flexible spending accounts and patient financing loans. As part of TMS NeuroHealth Centers' ongoing dedication to provide top quality care to our patients, we are committed to helping our patients manage the process for reimbursement and discuss options for financing of their TMS therapy.
"We are excited to provide BCBS members with the opportunity to utilize TMS therapy for their battle against Major Depressive Disorder," said Bill Leonard, President of TMS NeuroHealth Centers. "TMS is a proven therapy that has benefited thousands and thousands of patients suffering from depression."
About TMS NeuroHealth Centers
TMS NeuroHealth Centers are medical centers dedicated to helping those affected by neurological disorders live better lives. TMS NeuroHealth Centers provide access to the best medical expertise and the latest medical technology in the field of neurology and mental health. The first TMS NeuroHealth Center opened in Tysons Corner (McLean, Virginia) in November, 2011. To find out more, visit http://www.tmsneuro.com.