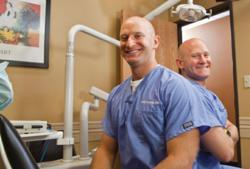 Austin, TX (PRWEB) June 11, 2013
The grocery and drugstore aisles are filled with so many different types of brands and options for toothpastes – how does a person figure out which one is right for him or her? Dr. Chad Denman - an Austin dentist / Round Rock dentist and co-founder of Family Tree Dental Group - has put together a few tips to consider when shopping for that next tube of toothpaste: 
1. Brand names don't matter. Most name brands use similar ingredients, so the important component is actually the seal of approval from the American Dental Association (ADA). All toothpastes that meet the ADA's standards for maintaining healthy teeth carry the seal. Look for it, particularly when purchasing off-brand pastes and gels. 
2. What are an individual's personal oral healthcare needs? Everyone's dental needs are a little different. Whether a person is looking for a whiter smile or something to help minimize sensitivity, there are options that fit those and many other needs. 
3. Be aware of adverse reactions. Flaking or peeling of gums could mean an allergic reaction to the toothpaste. Check with the dentist if either of these symptoms or extreme sensitivity occurs. Sometimes just making a simple toothpaste switch can solve the problem. 
4. Fluoride is important. Toothpaste or mouthwash that includes fluoride is important for keeping teeth strong. However young children have different fluoride needs. If they're under two, fluoridated toothpastes should not be used. If they're under six, they also shouldn't use fluoridated mouthwashes. 
5. Go with personal preferences. Pastes and gels offer the same benefits, as do the various flavors. So choose whichever type and flavor that provides enjoyment for every day use. 
6. Ask the dentist for suggestions. Even if you've checked into all of the above recommendations, the choices can still be overwhelming when looking for the right toothpaste. Ask your dentist – he or she should be happy to nail down your needs and preferences to come up with the ideal fit. 
Family Tree Dental Group was founded in 2011 by Austin dentists - Round Rock dentists and identical twin brothers Drs. Chad and Shelby Denman to provide high quality dental care in a state-of-the-art environment with careful attention to detail and deep personal respect. Family Tree Dental Group helps maintain the oral health of patients of all ages and cares for all dental needs under one roof. For more information, call (512) 458-5999 in Austin, (512) 310-3999 in Round Rock, or visit http://www.FamilyTreeDentalGroup.com.