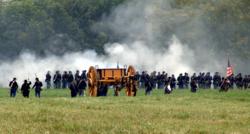 Chattanooga, TN (PRWEB) June 07, 2013
Because of Chattanooga's strategic location, river and rail systems, some of the hardest fought and most complex battles happened during the fall of 1863 on Lookout Mountain and Missionary Ridge. Chattanooga was considered the gateway to the Deep South and an important location for both the Union and the Confederate armies. Union forces under U.S. General Ulysses S. Grant blasted away that hope in November 1863 when Chattanooga fell at the battles of Lookout Mountain and Missionary Ridge, known collectively as the Battles for Chattanooga.
The victories forced the Confederates back into Georgia, ending the siege of the vital railroad junction of Chattanooga, and paving the way for Union General William Tecumseh Sherman's Atlanta campaign and march to Savannah, Georgia, in 1864
These victories ended the siege of the vital railroad junction of Chattanooga and set the stage for General William Tecumseh Sherman's 1864 Atlanta Campaign and his famous March to the Sea and the eventual resolution of the long war. The Campaign for Chattanooga changed the course of our nation's history.
Today, The Chickamauga Chattanooga National Military Park stands as the oldest and the largest military parks in the nation and was established through the efforts of Civil War veterans who came together from both armies in 1889. This Civil War battleground not only preserves, but also honors heroism, reconciliation and national reunification.
CCNMP is headquartered at Chickamauga Battlefield in Chickamauga, Ga. where the fields and woods of over 4,000 acres of northwest Georgia witnessed the last major Confederate victory of the Civil War on September 19 & 20, 1863. The Chickamauga Battlefield Visitors Center includes exhibits, the Fuller Gun Collection, a new movie "The Campaign for Chattanooga: The Death Knell of the Confederacy", a fiber optic map, hiking and biking routes, and information on how to experience the area's Civil War history. The Visitors Center at Point Park on Lookout Mountain features a 30'x13' painting by James Walker, an eyewitness to the Battle Above the Clouds, several short audio-visual presentations about the painting and the Battles for Chattanooga and a bookstore.
150TH ANNIVERSARY OF THE CIVIL WAR SPECIAL EVENTS
Chattanooga is commemorating the Campaign for Chattanooga with a variety of special events beginning in June. For a list of all events, visit http://www.chattanoogafun.com/150th-anniversary-of-the-civil-war-special-events.
Riverbend Festival features 2nd South Carolina (Civil War) String Band
June 7 8-9 pm Unum Stage
2nd South Carolina (Civil War) String Band in Concert
June 8 2 pm
Tullahoma Campaign Bus Tour: The Struggle for the "Gateway" Begins
June 22 7:30am-6:00pm
150th Anniversary Events at Chickamauga Battlefield
Sept. 14-15 8:30am-5:30pm
Pops in the Military Park
Sept. 21 7 pm -9 pm
150th Anniversary Reenactment of the Battle at Chickamauga with 10,000+ Reenactors
Sept. 21 & 22 9 am-6 pm
150th Civil War Sesquicentennial Signature Event – "Occupation and Liberation" Symposium
Oct. 9-12 9am-5pm
Battles for Chattanooga Living History & Tours
Nov. 22, 23, 24 9 am – 5 pm
WHERE TO STAY
To make it easier to find lodging for the 150th Chickamauga Reenactment, 150th Signature Event and to visit our Civil War sites, more than 30 of our hotel members are offering special rates. Properties are scattered throughout downtown and within 5-20 minutes away. Specials include the nights of September 19-23, 2013 and October 8-14, 2013. Most hotels will be making a donation to Friends of Chickamauga Chattanooga National Military Park with your stay during these 150th Anniversary dates to continue to Preserve & Protect our battlefields and national treasures. http://www.chattanoogafun.com/tncivilwar150th
###