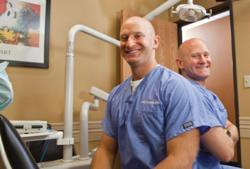 Austin, TX (PRWEB) June 26, 2013
Although the procedure is relatively painless, the root canal is often a feared dental healthcare operation. For years a cliched response to an unpleasant suggestion has been, "I'd rather have a root canal." Dr. Chad Denman, an Austin dentist / Round Rock dentist and co-founder of Family Tree Dental Group, is offering tips on how to keep teeth healthy and happy in order to avoid a less-than-desirable root canal. As with many ailments, prevention is the key, and that begins with each individual at home. 
1. Focus on consistent dental hygiene. Sometimes the obvious answer is the best answer – brush twice a day, especially before bed. See the dentist twice a year so the experts can perform a thorough exam to catch any little problems before they balloon into big ones. 
2. Don't forget the fluoride. In order to keep your enamel strong, fluoride is an essential, especially if an area doesn't include it in the water supply. Use a fluoridated toothpaste and/or mouthwash. But for the kids, if they're under two, fluoridated toothpastes should not be used. If they're under six, they also shouldn't be using fluoridated mouthwashes.
3. Eat healthy. Proper nutrients are important to keep teeth (and the rest of the body) strong, but unprocessed foods can also help your chompers in a different way. Eating crunchy foods like raw vegetables and harder fruits like apples can help keep the teeth clean through the simple act of crunching. 
4. Drink lots of water. There is no better way to keep the mouth hydrated and free of harmful sugars and acids than with water. Most other beverages contain high amounts of acids and/or sugars, which can lead to cavities. If one must indulge in soda, juice, energy drinks, sports drinks, coffee, etc., consider having some water to drink after to help minimize their damaging effects. 
Family Tree Dental Group was founded in 2011 by Austin dentists - Round Rock dentists and identical twin brothers Drs. Chad and Shelby Denman to provide high-quality dental care in a state-of-the-art environment with careful attention to detail and deep personal respect. Family Tree Dental Group helps maintain the oral health of patients of all ages and cares for all dental needs under one roof. For more information, call (512) 458-5999 in Austin, (512) 310-3999 in Round Rock, or visit http://www.FamilyTreeDentalGroup.com.