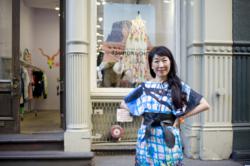 (PRWEB) June 10, 2013
Kisan, the women's and children's designer clothing retailer in the heart of Soho, celebrates its fifth anniversary throughout the year.
"Over the last five years, Kisan has evolved," said co-owner Thorunn Anspach. "We believe we are on to the perfect mix of women's and children's fashion from some of the world's most stylish, current and upcoming designers. We seek out those who are passionate about both fine construction and style."
In early May, the store threw a party featuring women's designer Tsumori Chisato. Chisato's line is the epitome of easy-to-wear, feminine, finely crafted clothing that is the heart of Kisan. Her Paris-meets-Tokyo silhouettes feature hand-drawn textiles, intricate beading and embroidery. The collection's punchy colors and whimsical prints are perfect for summer. The clothing's silks, chiffon and light-weight knits are not only stylish, but comfortable in warm weather.
Kisan continues to showcase chic styles with an urban twist that Anspach and co-owner Olivier Bremond have discovered in their world travels. "Our clientele loves us because we offer such a highly curated and rare selection of designers," Bremond said. "Some of them are hard to find anywhere in New York, while others will be Europe's hottest designers in 2014."
In addition to Chisato's line, Kisan is launching a selection of the latest collection from Vanessa Bruno. Bruno's newest designs, already coveted by Hollywood's glitterati, feature neutral palettes with pops of color. Her creations are edgy, yet feminine, and utterly effortless to wear. Each piece is created with both future and past styles, and is crafted with Bruno's signature tailoring.
New handbag styles from French designer Jerome Dreyfuss are also on the way. These leather bags that are known around the world for their soft touch are must-haves among many celebrities, and are renowned for their versatility to be dressed up or down. Each bag is unique and is made by gifted artisans implementing environmentally friendly practices.
The store is also home to Bellerose children's clothing, a 25-year-old Belgian fashion brand from designer Patrick van Huerck. The kid's line features durable designs that are easy to wear. The look is basic but with a hint of playfulness. This season's styles feature floral prints, bright colors and cool slogans.
Anspach and Bremond opened Kisan in 2008 in Soho, bringing the very best of their favorite fashions and designers they discovered while traveling the world extensively for 20 years. Their retail philosophy is to marry Parisian fashion sensibilities with New York style with clothing that doesn't sacrifice fine quality and wearability. The owners pride themselves on selecting current and upcoming designers with a unique dedication to both craft and style.
Kisan is located at 125 Greene Street, between Prince Street and W, Houston Street in New York. Or visit the store online at http://www.kisanstore.com.