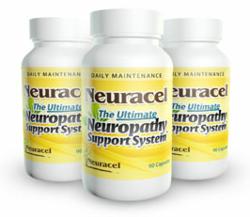 Boise, Idaho (PRWEB) June 07, 2013
With millions of people suffering from it worldwide, neuropathy is a menace that adversely affects the lifestyle of patients. Characterized by severe muscle and nerve pain, its symptoms are as diverse as its causes, with different patients reporting different symptoms. Furthermore, what makes this condition even more damaging is the fact that despite the advancement in medical science, experts have not been able to come out with a treatment program that is effective in providing pain relief. While there are various causes to partly blame for this, the failure is also due to the patients resisting treatment because of the effort it requires. However, the launch of Neuracel's Ultimate neuropathy support system may signal an end to all the problems associated with neuropathy treatment and provide patients with a means to manage their condition through the use of a single product.
The Ultimate Neuropathy Support System
Consisting of an unprecedented combination of five different herbs including Prickly Ash bark, California poppy, Lobelia, Corydalis, and Passion flower, the Ultimate neuropathy support system is an all in one treatment for neuropathy. The use of the carefully chosen herbs allows the product to minimize and control symptoms such as burning, tingling, and muscle ache. Unlike other drugs and painkillers, the Ultimate neuropathy support system reverses the damage caused to the nervous system and ensures protection in the long term as well. Too add to the benefits, all of this is presented in a package that is cost effective, which makes the product affordable for patients with varying financial statuses.
About the company
Leading the way in herbal treatment for neuropathy, Neuracel's products have helped thousands of people live a better life. For further information regarding the company, visit http://www.neuracel.com. More information regarding the ingredients used to make the ultimate neuropathy support system is also available on the website. A two week trial of the medicine can be acquired without any charges at http://www.neuracel.com/specialoffer.php.