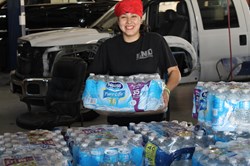 How could we enjoy a Memorial Day weekend with all those victims suffering in Oklahoma? Something had to be done.
Dallas, TX (PRWEB) June 07, 2013
Local North Dallas auto repair & body shop helps Oklahoma tornado victims by organizing a water drive and matching the donations case for case. Linear Automotive is an auto repair & full collision repair & body shop servicing the North Dallas area. The owner, Joel Ozbun, was troubled when he heard about the devastation that ripped through Moore, Oklahoma. On Tuesday May 24th Joel asked people through his Facebook to donate water. This is what he said on Linear Automotive Repairs Facebook page: "Please open up your wallet and take a little time out of your day to make a difference, it will make you feel better, we promise." Well, it certainly received a lot of attention, because only an hour after posting people started showing up with cases of water. The team at Linear Automotive's body shop in Plano put in extra time to keep the shop on schedule due to all the activity from the water donation logistics. There was a steady flow of people and businesses showing up with donations. The original plan was for the staff at Linear Automotive Repair to drive the water up to the Oklahoma victims.
Once the cases of water stacked up it was soon obvious that a bigger truck was going to be needed. MLE, a construction company in Plano, Texas heard about what was going on and offered to help transport the water. They supplied 3 big trucks and trailers to get the job done. The project ended up totaling over 1200 cases of water and a little more than the trucks and trailers could carry after being loaded to full capacity. There were just too many generous people and businesses that donated to mention, but we will mention a few. MLE Construction in Plano, Main Street Tavern in Richardson, Finish Masters in Dallas, English Color in Plano, O'Reilly Auto Parts in Plano, HHHB, Sapparo Ramen & Sushi in Richardson, and Paul Coon. Paul's 9 year old daughter gave her full allowance savings and contributed 12 cases of water on her own, ( that is quite a story in itself ). If you agree be sure to like it on Linear Automotive Repairs Facebook page. Joel Ozbun quoted "How could we enjoy a Memorial Day weekend with all those victims suffering in Oklahoma? Something had to be done." There are 3 huge trailer loads of water en route to help those people who lost everything. No one with a conscience can enjoy a holiday weekend when people are suffering; at least these Texans can enjoy the satisfaction that they put their best effort into making a difference when their neighbors to the North needed it the most.
Linear Automotive Repair is an auto repair center and full service collision repair & auto body shop that services North Dallas including Richardson, Plano, Addison, Garland, Allen, McKinney, Frisco, The Colony, Carrollton, and all the surrounding areas. Linear specializes in helping people save money with affordable collision repair services and discounts on deductibles whenever possible. Linear Automotive is located at 905 Avenue K in Plano, Texas. Phone 972-633-2201 Website http://www.linearautomotive.com.