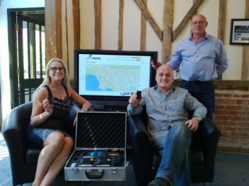 One Run For Boston is a chance for runners to come together and show solidarity in a really dynamic way
Colchester, Essex (PRWEB UK) 7 June 2013
The team at Ninja Tracking will supply a GSM tracker, which will be fitted to baton and Two10degrees will track the run from start to finish. They have created a live map for supporters to follow the baton across 14 States. The epic event is being organised by a trio of running enthusiasts from the UK who wanted to show their support for Boston following the tragic events of April 15.
One Run For Boston starts from Venice Beach, LA, at 10am (PDT) on Friday 7 June and is scheduled to reach Boston just over three weeks later at 8pm (PDT) on Sunday 30 June. Hundreds of runners from across the USA will keep the relay going non-stop around the clock through fourteen different states and four separate time zones, passing a specially designed baton between them. Supporters will be able to follow their progress online thanks to a GPS Ninja Tracking device fitted to the baton which will update its location every 15 minutes via GAP.
"One Run For Boston is a chance for runners to come together and show solidarity in a really dynamic way" said Kate Treleaven, Organiser. "It's a chance to be part of something remarkable, to demonstrate the strength of human spirit and send a powerful message of support to the city of Boston and those whose lives were changed on April 15."
By collecting donations from each of the participating runners, the relay is raising money for The One Fund Boston, set up by the Mayor of Boston to assist the victims and families most seriously affected by the bombings. The One Run For Boston team recently confirmed that donations made by runners who sign up to run in Oklahoma will be donated to the Disaster Relief Fund set up in the wake of the recent devastating tornado.
The relay will travel through the states of California, Arizona, New Mexico, Texas, Oklahoma, Missouri, Illinois, Indiana, Ohio, Pennsylvania, New Jersey, New York, Connecticut and finally, Massachusetts. The 3300 mile route has been divided into 319 separate stages. Runners signed up to run via the One Run For Boston Website (http://www.onerunforboston.org).
The baton will be handed to the first group of runners today in LA. From there they will drive the route, following the relay all the way to Boston, posting daily updates from the roadside and running the occasional stage.