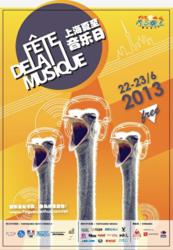 New York, NY (PRWEB) June 10, 2013
MusicDish*China announced its return as a media sponsor of this year's Fête de la Musique (Make Music) Shanghai being held across the city on June 22-23, 2013. MusicDish's Asia-focused music brand had sponsored the 2nd Fête de la Musique Shanghai in 2011, which showcased hundreds of musicians, mostly from Shanghai, taking part in the event.
This year's "Fête de la Musique" will include free concerts at even more participating locations all over the city. Xintiandi, Yangshupu, Sinan Mansions, Yu Garden, Duolun Streets, James Cohan Gallery, pavillon Rhône-Alpes, Wujiaochang, and many more will be opening their doors to music during the whole Saturday 22nd and Sunday, 23rd of June. A unique opportunity to discover local or foreign bands celebrating music.
Saturday, 22.06: Big Opening Concert
http://www.faguowenhua.com/sh
The traditional grand opening concert will again introduce French bands to the Shanghainese public. This year, Girls in Hawaii and April Shower will come especially from Europe to perform in Shanghai.
Girls in Hawaii
http://www.girlsinhawaii.be
This Belgian pop-rock band was founded in 2002, and hit the big time with its first album "From Here to There". Its sweet and timeless pop conquered a large audience. The band was playing to sold out audiences and invited by famous festivals, in Belgium as well as in France. In 2010, consequently to the death of its drummer, the band decided to stop playing music. After a two-year break, Girls in Hawaii is coming back with a new album, and chose Shanghai for a live performance.
April Shower
https://www.facebook.com/aprilshowermusic
This band, composed of five girls from Bordeaux was created in 2010. Warm and innocent voices, hypnotic bass, minimalist drums and ukulele are the ingredients of this vibrant and joyful pop. No doubt, the Shanghainese public will love this band.
About MusicDish*China
MusicDish*China (http://china.musicdish.com) serves as a bridge between East & West, working with major acts from Taiwan (sa. Golden Melody Award winners Jolin Tsai, Mayday, Da Mouth) and China (Shanren) while developing Western acts for the Greater China market. MusicDish*China has partnered with key events, from Midi and Zebra festivals to the Sound of the Xity conference that, in combination with its social media presence, has given it a unique brand positioning in the market. An advisor to Taiwan's GIO Pop Music Office, MusicDish*China recently signed electronic acts DJ Code and RED for international management.
What is "Fête de la musique"?
Created in Paris in 1982, the "Fête de la Musique" immediately became a hugely popular event in France. Every year, on June 21st, the first day of summer, French city streets become crowded with people and music. On that very day, any and all musicians, be they professionals or amateurs, old or young, no matter what their musical style, perform in free outdoor concerts, celebrating music for free with the public. Today, 450 cities all around the world are taking part every year in the "Fête de la musique".
The "Fête de la Musique" was celebrated in Shanghai first in 2010, as part of the Shanghai World Expo. It was celebrated again in 2011 and 2012. Each edition met a huge success with hundreds of musicians, mostly from Shanghai, taking part in the event.
Partners: Shanghai Municipal Administration of Culture Radio, Film and TV, Shanghai Mass Art Center
With the support of: Le coq Sportif, Auditoire, Institut français, la ville de Lyon, la ville de Bordeaux, le réseau des Alliances françaises de Chine, Wallonie-Bruxelles International, Délégation Wallonie-Bruxelles à Pékin
Contact
Eric de Fontenay
MusicDish*China
http://china.musicdish.com
ecfont(at)musicdish(dot)net
tel: +1-718-278-0662