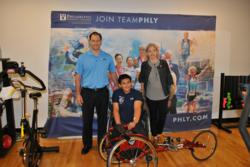 Bala Cynwyd, PA (PRWEB) June 10, 2013
Like many other 12-year-olds, Miguel Jimenez-Vergara enjoys playing sports, but he is missing two things most 12-year-old athletes have: his legs. Miguel was born in Columbia, without legs due to a congenital birth defect. Currently living in Ewing, New Jersey with his family, Miguel has been actively involved with the North Jersey Navigators Paralympic Sport Club for the past 6 years. In July 2012, he won 14 gold and two silver medals at the National Junior Disability Championships, however he realized he would need a top-end racing wheelchair to continue competing at a top level and to compete at the 2013 Jr. National Championships this July.
"Wheelchair sports are great and they make me feel like a regular kid. I love to compete and I love to win," shares Miguel.
Thanks to a Challenged Athletes Foundation® (CAF) grant funded by Philadelphia Insurance Companies (PHLY), Miguel received a custom-built racing wheelchair. The cost/value of the EagleSports Soaring Racing Wheelchair is approximately $3,500, an expense most health insurance providers don't cover for disabled athletes. The Challenged Athletes Foundation is a unique non-profit organization that provides support to people with permanent physical disabilities so they can live active and healthy lifestyles.
"Participating in wheelchair sports is the best thing that ever happened to me. I could play sports and compete just like everyone else," said Miguel.
"Sponsors like Philadelphia Insurance Companies are crucial in providing the funding needed by athletes like Miguel to overcome obstacles and pursue their athletic dreams," said Virginia Tinley, CAF's Executive Director. "We are beyond thankful for PHLY's support."
Miguel was presented with his new racing wheelchair in the TEAMPHLY Health and Wellness Center, joined by his family, as well as representatives from CAF and PHLY. Following the presentation, PHLY employees participated in a spin class fundraiser for CAF, kicking off a series of exercise fundraisers to be held in the Company's gym throughout the month of June. PHLY has already raised more than $230,000 for CAF since 2008.
"Commitment to a healthy and active lifestyle is important to PHLY," said Jamie Maguire, Chairman of Philadelphia Insurance Companies. "We are proud to support the Challenged Athletes Foundation to help athletes like Miguel stay active and achieve their goals."
Miguel has a long-term goal to compete in the International Wheelchair and Amputee Sports (IWAS) World Junior Games and the Paralympics. You can watch a video of Miguel receiving his custom racing wheelchair at http://www.youtube.com/phlyins.
About Philadelphia Insurance
Philadelphia Insurance Companies designs, markets, and underwrites commercial property/casualty and professional liability insurance products incorporating value added coverages and services for select industries. In operation since 1962, the Company, whose commercial lines insurance subsidiaries are rated "A++" (Superior) by A.M. Best Company and "A+" for counterparty credit and financial strength by Standard & Poor's, is nationally recognized as a member of Ward's Top 50, National Underwriter's Top 100, and one of the Top 150 Workplaces in America by Workplace Dynamics. The organization has 45 offices strategically located across the United States to provide superior service. For more information, please visit http://www.PHLY.com.
About Challenged Athletes Foundation
The Challenged Athletes Foundation® (CAF) is a world leader in helping individuals with physical challenges get involved – and stay involved – in sports. CAF believes that participation in sports at any level increases self-esteem, encourages independence and enhances quality of life. Since 1994, close to $47 million has been raised and more than 8,200 funding requests from challenged athletes in all 50 states and dozens of countries have been satisfied. Additionally, CAF's outreach efforts reach another 60,000 individuals each year. Whether it's a $2,500 grant for a handcycle, helping underwrite a carbon fiber running foot not covered by insurance, or arranging enthusiastic encouragement from a mentor who has triumphed over a similar challenge, CAF's mission is clear: give those with the desire to live active, athletic lifestyles every opportunity to compete in the sports they love. To learn more, log on to http://www.challengedathletes.org or call 858-866-0959.