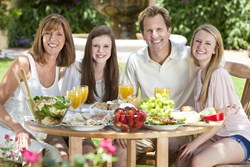 Indulge dad and surprise him with a unique gift he will enjoy: Pure Pleasure Foot Balm from Sublime Beauty®.
St. Petersburg, FL (PRWEB) June 11, 2013
Indulge dad and surprise him with "Pure Pleasure Foot Balm" from Sublime Beauty®. Men love this balm, which invigorates weary feet and spirits, and moisturizes with quality ingredients. "Many of the balm ingredients are natural and organic, and it has become a very popular product with as many men as women," says Kathy Heshelow, founder of Sublime Beauty®.
Our feet are so important but often overlooked for special care; we actually punish them with lots of standing, walking, sports, high heels or tight shoes, and traveling. Tired and swollen feet bring down the spirit and can be painful. Applying a soothing, healing yet invigorating balm like "Pure Pleasure Foot Balm" is a welcome action at the end of the day, especially when a little foot massage is added. This is something that can please dad for weeks and months to come.
Ingredients in this product include organic aloe, safflower oil, jojoba, shea butter and sweet almond oil for moisturizing; menthol, peppermint, wintergreen and eucalyptus for invigoration; organic arnica, Tree Tree Oil and hyaluronic acid for healing. "These ingredients are amazing and work together very well. The balm has become very popular - it is hard to keep it in stock," says Heshelow.
A 25% Off Father's Day sale is available all of this week. Use DAD3JU8N at checkout. The balm retails at $17.98 but is on sale this week for only $13.49. "For this price, mom may want to get a balm, too," says Heshelow. Fast shipping is available (in time for Father's Day) through Amazon, which Sublime Beauty® uses for warehousing and fulfillment.