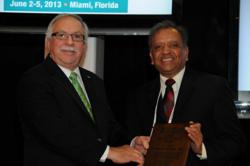 Miami, FL (PRWEB) June 07, 2013
The International District Energy Association (IDEA) presented the Norman R. Taylor Award to WM Group President Hemant Mehta on June 4 at IDEA's 104th Annual Conference and Trade Show in Miami, FL. The Award, which is IDEA's highest individual honor, recognizes an individual who has achieved professional success and made significant long-term contributions to the association and the district energy/CHP industry.
In remarks during the award presentation, IDEA Chair Joseph Brillhart stated of Mehta, "Our Norm Taylor Award winner for 2013 embodies all that is important and valuable about this prestigious award. Hemant Mehta is smart, energetic, entrepreneurial and passionate. He was a steady champion of IDEA's move into the district cooling arena, chairing five of the association's earliest cooling conferences, and he remains dedicated to advancing learning and information exchange. He reflects the essence of IDEA, always asking, 'how can I serve? What can I do to help?'"
Mehta, a registered professional engineer, began his career at Syska Hennesey, where he established the firm's Central Utilities Group. He and a partner spun off to form WM Group Engineers in 2000 and he continues there today as part owner of WM Group, specializing in the planning, design and commissioning of district energy and CHP systems. His clients include prominent universities and some of the world's largest pharmaceutical companies. The Association of Energy Engineers recently lauded his efficiency achievements, naming him the 2010 Energy Engineer for the New York Chapter and the 2011 Energy Engineer of the Year for Region 1.
Brillhart added, "Hemant is considered an expert in utility master planning and he is dedicated to providing clients with direct access to his expertise. He has extensive experience optimizing the performance and improving the efficiencies of existing utility plants, his recommendations have saved facilities many millions of dollars in capital and operating costs. He has managed more than 100 central utility projects throughout the world during his 35-plus-year career and has mentored countless colleagues on the value of efficiency."
IDEA President Rob Thornton added, "Yet for all he has done for the industry and his clients, he remains a family man at heart and maintains close ties to his native India and to the many friends he has made along life's journey. Originally from Gujarati, a state in western India, this year's honoree has successfully blended cultures that have made him who he is today – a good friend, husband, father, grandfather and respected professional around the globe. We appreciate his many contributions to our industry and congratulate him on this achievement."
IDEA is an independent, non-profit industry association formed in 1909 with headquarters in Westborough, Massachusetts that currently represents the interests of approximately 1800 members worldwide involved in operation, design, construction and optimization of district heating, district cooling and CHP (cogeneration) systems, with a majority of members in North America, as well as Europe, Middle East and Asia Pacific.