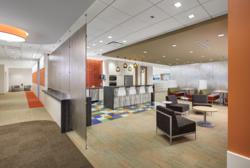 The new office is really transformational for our company.
Chicago, IL (PRWEB) June 10, 2013
Skender Construction has completed the buildout of 189,000 square feet of office space for ACCO Brands, the country's largest supplier of branded office products, at Four Corporate Drive in Lake Zurich, Illinois. Harley Ellis Devereaux served as the architect and Cushman & Wakefield was the real estate broker and owners' representative on the project. ESD was the mechanical, electrical and plumbing engineer.
ACCO was moving its 450 employees from the Lincolnshire office it had occupied for 17 years. ACCO has grown significantly over the years by acquiring other companies. Therefore, the company's executives wanted to build a space that enhanced process adjacencies, while encouraging "casual collisions" between employees who are working on different projects or in different divisions, creating an open office space over several floors of the 1980s office building in the Kemper Lakes office park. The project was completed on an accelerated schedule of just 20 weeks, with about 25 percent of the project completed early for an ACCO requested beneficial occupancy.
"The new office is really transformational for our company," said ACCO Brands vice president of strategic initiatives Michael Molinaro. "We're really encouraging spontaneous, informal business conversations and interactions. We were impressed that such a complicated project was completed in such a short time frame."
Extensive pre-construction planning and smart scheduling between the contractors, architect and engineer led to a reduced amount of waste throughout the project. Skender and HED were the first contractor/architect pair to use the Newforma project and information management software in tandem on the same project. The use of the digital document management system allowed the companies to save thousands of sheets of paper on the through the use of shared electronic blueprints, electronic transmittals and 200-300 different electronic submittal packages.
# # #
About Skender Construction
Skender Construction changes the way people experience construction. From our passion to the way we're innovating project delivery, our clients and project partners walk away feeling different about the process. Our approach is different – we believe a successful project builds on everyone's expertise. True collaboration, innovation and a focus on efficiency creates value that clients see and touch. For more information on Skender, visit http://www.skender.com.
About Harley Ellis Devereaux
Harley Ellis Devereaux is a 105-year old, Chicago based, award-winning, full-service organization offering a complete range of planning, architecture, engineering, landscape architecture, interior design, and construction services. The firm serves customers across the nation and around the world. Visit them at http://www.harleyellisdevereaux.com.