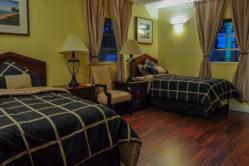 "We understand that the number of users of designer drugs is on the rise, each case is different and we have a specific plan of action in place to help each client."

Robert Niznik, Harbor Village, CEO
Miami, Florida (PRWEB) June 10, 2013
As reported by Science News on 6/4/13, over the last few years, use of designer stimulants has surfaced as an epidemic in the United States. In 2009, there were virtually no calls to call centers and authorities by users of these drugs. That figure rose to about 300 in 2009 and to more than 6,000 in 2011.
Packaged and sold as common household products to evade drug laws, designer stimulants are among the newest type of recreational drug. "Although packages are conspicuously labeled "not for human consumption," they are clearly intended for use as psychoactive substances," according to Addiction Medicine Specialist Dr Erik W. Gunderson of the University of Virginia, Charlottesville.
These potentially poisonous products have become easier to purchase and can be found on the Internet and other outlets. It has been reported that the effects are similar to those of cocaine, amphetamine and other stimulants. The dose, compound of drugs used and the method of administration may affect the actual intensity of the results. Users may sniff, swallow or even inject these drugs. Symptoms found in patients treated range from agitation, accelerated heart rate, argumentative or violent behavior and even hallucinations. Use of other drugs and underlying mental illness only serves to worsen the effects.
"We understand that the number of users of designer drugs is on the rise, each case is different and we have a specific plan of action in place to help each client. At Harbor Village, a premier South Florida detox facility, each client receives 24/7 medical supervision by a trained staff that will guide those with a drug or alcohol addiction on the path to sobriety," said Robert Niznik, Harbor Village CEO.
Once addicted to drugs or alcohol, many clients are seeking safe, effective solutions to their dependencies. Harbor Village, a 24/7 professionally supervised detox center allows each client to experience detoxification in a luxury, state-of-the art environment. Located in South Florida, clients are welcomed with upscale accommodations including a suite complete with television and headphones, 30,000 square feet of outdoor lounge area, salon, spa and massage services, acupuncture treatment, gourmet dining and a results proven, personalized plan for recovery.
For more information, visit: http://harborvillageflorida.com/ or call the 24/7 hotline 1-855-338-6900
Media Contact: 
Robert Niznik 
Harbor Village 
Miami, FL 
305-999-5728 
robert@harborvillageflorida.com