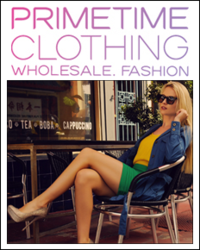 Los Angeles, CA (PRWEB) June 07, 2013
PrimeTime Clothing, an established online distributor of wholesale clothing and fashion accessories, recently celebrated its third year in business in the Los Angeles area. The company offers discounted pricing on an array of up-to-date styles and products that are in demand across the country with daily updates to its catalog. Over the past three years, PrimeTime Clothing has developed a substantial market niche among individual buyers, boutiques and retailers. The company website offers all types of clothing ranging from activewear to medical uniforms to jackets and shoes, as well as makeup and cosmetics.
In recognition of its anniversary and in appreciation to its customers, PrimeTime Clothing continues to offer customers free shipping on orders over $300 to anywhere in the continental U.S., and $9.95 flat rate shipping on orders under $300. First-time customers can enter the code PRIMETIME at checkout to receive a 15-percent discount.
About
PrimeTime Clothing offers a wide selection of premium, wholesale fashion apparel and accessories at significantly discounted prices. Items arrive daily from hundreds of Los Angeles-area manufacturers and importers, ensuring a consistently updated assortment. PrimeTime Clothing has more than 25 years of experience in the business of discounted wholesale apparel and constantly seeks to provide customers with the latest fashionable junior, missy, plus-size, mens, active wear, intimate, handbags, accessories and more for the absolute lowest prices available. Customers may visit the company's warehouse; for a purchase, please call or email to schedule an appointment. For more detail visit http://www.primetimeclothing.com/.