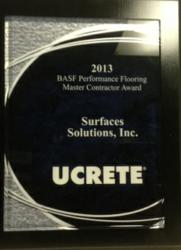 We're very pleased to have once again been recognized by BASF UCrete. This is a testament to the hard work, depth of knowledge and high standards from our consultants and installation teams
Indianapolis, IN (PRWEB) June 11, 2013
Surface Solutions, an Indianapolis based flooring company is pleased to announce they are the recipient of the TOP BASF Ucrete Master Contractor award for the second consecutive year.
BASF awards this honor to only a select few Ucrete Flooring contractors who exhibit consistence quality and service in the installation of BASF high performance floor coating products.
Surface Solutions Inc. is a turnkey commercial and industrial flooring contractor that has provided flooring solutions for clients such as Nestle, Del Monte, Cargill, Smithfield, Unilever and Tyson. Through exemplary service and installation utilizing only the highest quality standards, Surface Solutions has established themselves as a leader in the industrial flooring industry.
"We're very pleased to have once again been recognized by BASF UCrete," stated Steve Hess, President of Surface Solutions "This is a testament to the hard work, depth of knowledge and high standards from our consultants and installation teams."
As a single source provider of epoxy floor coatings and urethane surfaces, Surface Solutions Inc. works with clients throughout the installation process to ensure the best product is applied with minimal disruption to workflow in the facility. From concrete testing to surface preparation and finally installation, Surface Solutions does it all. Additionally, all installations come with a single source warranty for both products and installation.
Since 2001, Surface Solutions has been a leader in the installation of industrial floor coatings for a variety of production environments. From the food and beverage industry, to pharmaceutical facilities and industrial facilities, Surface Solutions has experience with even the most challenging products.
In addition to Surface Solutions' Indianapolis headquarters, a Chicago office to serve the growing needs in that area.
About Surface Solutions
Surface Solutions is an independent industrial floor contractor specializing in seamless, polymer flooring systems utilizing the most trusted brands in the industry. From testing to consultant and complete installation services, Surface Solutions is your premier source of industrial flooring systems.