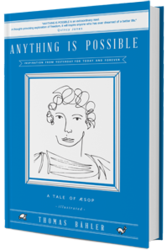 New York, NY (PRWEB) June 10, 2013
Thomas Bähler has anything but an ordinary life. He was recently found sharing the stage with Quincy Jones and Lionel Richie. The music he's written has been performed and recorded by countless greats, including Michael Jackson, Josh Groban, Willie Nelson, Cher, The London Symphony Orchestra, Arturo Sandoval and Patti LaBelle to name just a few.
He was Michael Jackson and Billy Joel's vocal arranger and provided arrangements and vocals for such productions as The Wiz, The Color Purple, and The Partridge Family. He's worked with such greats as Steven Spielberg, Arnold Schwarzenegger, John Malcovich, Andi McDowell, Nora Ephron, John Travolta, Chevy Chase, Robert DeNiro and Dustin Hoffman. But perhaps Bähler's favorite achievement? Being associate producer and chief arranger for the legendary landmark, "We Are The World" recording.
How did he achieve all this? If you ask him, he'll say the answer comes in three simple words: "Anything Is Possible."
Æsop lived 2,600 years ago. Born a slave with no access to wealth or influence, the famed philosopher and storyteller later served as Ambassador to King Croesus, the wealthiest and most powerful King in ancient history, simply with a fierce belief in his own potential and the power of human ingenuity… Æsop needed a way to speak to his superiors about his ideas and solutions without putting his life in danger…and so, the Fable was born.
This story deeply resonated and inspired Bähler, and over the course of 30 years, he's crafted a poignant, joyous, simply-put but deeply profound narrative about the life of Æsop, a man who was born in 620 BC yet is still quoted an estimated one-million times daily across the globe.
"I wrote the novel because I was moved… I began to question what our world would be like if man used riddles instead of swords and actually believed that endless possibilities exist. I believe there are two types of people in the world: those that want things to remain the same and those who see the world through their imagination and want to create the future. Each of us can create our future and by sharing the profound story of Æsop, I plan to inspire millions to ignite their imagination and believe in unlimited possibilities," Bähler explains.
The Greek Press & Communications Office will be hosting the Press Conference for Thomas Bähler on June 11, 2013 in New York City, NY.
For further details please contact Media Contact:
Sheila Stewart 303.378.2022