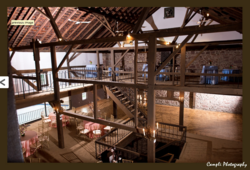 "This event was unique due to the venue they had it at"
Collegeville, PA (PRWEB) June 08, 2013
It's not everyday that in the same place where livestock and crops are stored and horses trot around in their stables that a wedding is going on. However, in Barn on Bridge in Collegeville, PA, that's exactly what happens on a regular basis. The once dairy barn has been transformed into a beautiful venue for Weddings, Graduations, Birthdays, Corporate Events, and more. And on June 2nd, 2013 a wedding held here called upon Peekaboo Photo Booth to show up with a photo booth rental for the occasion.
According to their Facebook page, The Barn on Bridge was originally a dairy farm owned by Peter Logan. More recently, it was converted into an event venue known as The Barn at Birchwood. With new owners, a new name and lots of love, The Barn on Bridge is being renovated into a beautiful facility to host wedding, social, and corporate affairs.
Andrew Birr, owner of Peekaboo Photo Booth states, "This event was unique due to the venue they had it at. From the pictures on the website, Barn on Bridge in Collegeville, PA definitely brings that All-American feel to a wedding. What they did with the inside of that barn is utterly amazing and from the feedback I received, they also had a blast in the photo booth. I hope we get to work another event at this location."
About Peekaboo Photo Booth
With more than five years of experience, Peekaboo Photo Booth (http://www.peekaboophotobooth.com/orlando-photo-booth-rental/) has completed more than 1,000 successful events. The company offers classy, cabana-style booths that are easy to set up and simple to use. Based in Winter Park, Fla., Peekaboo Photo Booth is a privately owned firm that offers services nationwide. In addition to operating in the Orlando area, the company also has a presence in the following metropolitan areas: Phoenix, Miami, Los Angeles, San Francisco, San Diego, Houston, Dallas, Washington D.C., Philadelphia, Boston, Atlanta, Seattle, Chicago, and Detroit. Peekaboo Photo Booth has been in the Photo Booth Rental Business for over five years and celebrates a nationwide footprint servicing both private and corporate events.