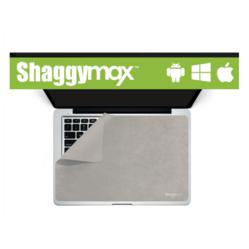 Our new name ShaggyMax, will re-align the brand with a broader appeal
Lancaster, PA (PRWEB) June 11, 2013
ShaggyMac is now ShaggyMax. ShaggyMac launched in 2003 with their niche accessories line, most notably, the Microfiber Laptop Screen Protector. With 10 years of manufacturing, marketing and distributing under the ShaggyMac brand, the company is ready to push further than the "Mac" ecosystem.
"We started out making accessories for the PowerBook G4, then the MacBook, MacBook Pro, iPhone and iPad. In the past 10 years, we witnessed real genuine innovation unfold before our eyes. Our new name ShaggyMax, will re-align the brand with a broader appeal," explains ShaggyMax's Dimitri Keares
ShaggyMax's product portfolio includes accessories for Macs & PCs, laptops, tablets and photo/optics. They also pioneered a made-to-order Custom Laptop Protector in 2003. They have new products in the pipeline, most of which will be Made in the USA. ShaggyMax products are available via their online store and ship direct to over 120 worldwide destinations.