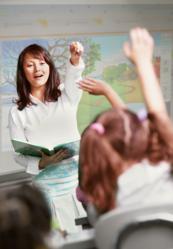 Classroom Advantage has unparalleled depth of curriculum that builds cognitive skills and literacy proficiency
Salt Lake City, UT (PRWEB) June 10, 2013
Shaping curriculum to fit the needs of all students in the classroom can be challenging for teachers faced with budget cuts and larger classes. Addressing Common Core State Standards (CCSS) and maximizing the use of existing classroom technologies introduces additional complexity. Yet, teachers are eager to create effective lessons and implement CCSS to ensure that all students have equal opportunities for learning. For more than 35 years, Waterford Research Institute has worked side by side with teachers to support these goals and will honor teachers' efforts with the launch of Classroom Advantage™ at the ISTE 2013 Conference, booth #2265.
Classroom Advantage is a cloud-based library of learning activities for large and small group instruction using an interactive whiteboard. Teachers can easily create their own playlists – developing customized lessons from the 4,800 activities that include books, songs and games, aligned to CCSS. Playlists can be shared with other teachers, streamlining the process of creating consistent and grade-appropriate content.
"Waterford Research Institute has long recognized that classroom teachers need high-quality instructional resources that maximize existing technologies such as interactive whiteboards," said Dr. Benjamin Heuston, president of the non-profit Waterford Research Institute. "Classroom Advantage works with current curriculum and empowers teachers to deliver superior lessons using proven learning activities. Educators at ISTE will see first-hand how easy it is to create custom playlists for their classroom with lessons that are aligned to CCSS. We are excited to be able to offer this instructional tool for teachers."
The use of interactive whiteboards for whole class or small group instruction increases student participation, collaboration, engagement and motivation. Interactive whiteboards can enhance emergent literacy instruction when used with a comprehensive reading curriculum, such as Classroom Advantage, which covers the critical skills of phonemic awareness, phonics, text comprehension, vocabulary, fluency, writing and school readiness.
"Classroom Advantage has unparalleled depth of curriculum that builds cognitive skills and literacy proficiency, while giving classroom teachers easy-to-use instructional tools and resources," said Valerie Connell, vice president of product and market strategy at Waterford. "The lessons in Classroom Advantage are research-based, validated by independent studies and developed with the same rich content found in Waterford's award-winning programs. In classrooms where Waterford programs are used, there is evidence of immediate and long-term academic gains."
Teachers can see a demo of Classroom Advantage at booth #2265 and experience the stories, lessons and videos that captivate students and make learning fun. Visitors who participate in a demo can enter to win a free, 1-year subscription of Classroom Advantage. During the ISTE exhibit hall hours, one award will be given away every hour.
About Waterford
Waterford Research Institute (http://www.waterford.org) is a nonprofit research center dedicated to providing every child with the finest education through the development of high-quality educational models, programs, and software. Founded by Dr. Dustin Heuston in 1976, Waterford uses rigorous research to build award-winning, proven educational programs. Since creating the first educational videodisk, Waterford continues to be at the cutting edge of technology-delivered instruction. Today, Waterford Research Institute is an international leader in preschool through second grade software for reading, math, and science programs and has reached millions of children globally. For more information, visit http://www.waterford.org or contact 801-349-2200.