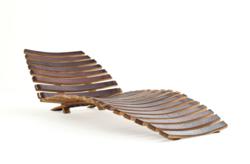 Houston, TX (PRWEB) June 07, 2013
Internum Showroom in Houston will host "Barrique - The Third Life Of Wood" – a project that creates luxury furniture and décor by repurposing old wine casks, on June 20 and 21.
The Barrique exhibition offers a rare opportunity to view and purchase unique pieces of fine Italian craftsmanship while supporting Europe's largest drug rehabilitation center, the San Patrignano Center, in its mission to rehabilitate substance abuse addicts. A few of the pieces will include: console, lamp, stave table, and a chaise longue chair.
"We are honored to be the exclusive host of such a magnificent event in Texas," said Carla Munoz of Internum, "The pieces in this project are not only for an extraordinary cause but are a testament to how design is able to inspire."
By using wine barrels (barriques) that would have otherwise been discarded, the exhibition is not only meant to symbolize their new chance at life, but the new beginnings of the San Patrignano rehabilitated community. Created alongside rehabilitated members from San Patrignano, "Barrique" will exhibit high-end home decor designed by over 30 world-leading designers, including Daniel Libeskind, Marc Sadler, Karim Rashid, Arnaldo Pomodoro, Angela Missoni and Chiara Ferragamo.
The pop-up exhibition will tour six select US cities this summer. Houston has been chosen alongside New York, Chicago, Charlotte, Atlanta and the Italian Embassy in Washington D.C. The exhibition made its debut at the prestigious Salone del Mobile in Milan.
"Barrique - the Third Life of Wood" will remain on display at the Internum showroom from June 20-21. For hours and specific locations contact Internum at (832) 242-9575. To learn more about Barrique and their great programs, visit: http://barrique.sanpatrignano.org.
About the company:
At Internum, customers will find internationally-recognized European luxury furniture brands such as Minotti, Cassina, B&B Italia, Baxter, Flexform and Poltrona Frau, among many others. The way these brands work and treat the leathers, fabrics, woods and any other materials they incorporate in their artistic designs are some of the features that make them the preferred choice in the international high end furniture industry. Internum's Houston showroom is located at 3303 Kirby Drive and open from 10 a.m. to 6 p.m. Monday through Saturday, as well as Sundays from 12-5 p.m. Contact Internum at (832) 242-9475.