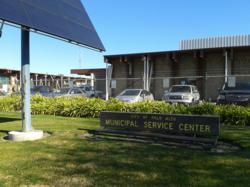 Palo Alto's forward-looking residents and businesses get the credit for the City's impressive achievements.
Palo Alto, CA (PRWEB) June 07, 2013
The City of Palo Alto has received national recognition as a result of its promoting programs encouraging the use of renewable power. This virtual "trifecta" of recent achievement includes:

Palo Alto has been ranked #1 in the country for the participation rate of its Palo Alto Green program. This ranking came from an assessment by the federal Dept. of Energy's National Renewable Energy Laboratory. Palo Alto's program was launched in 2003 and since 2008 the level of participation has hovered around 20%, making it repeatedly the national leader among renewable energy purchase option programs. Get full details on the Palo Alto Green program here.
Palo Alto ranked in the Top Ten nationally for number of solar systems per capita--- for the 6th year in a row! The Solar Electric Power Association (SEPA) announces these rankings in their annual report. (Palo Alto appears on page 16!) The City solar website details the many solar programs and services that make it easy for residents and businesses to hop aboard the solar train!
The recognition above comes on the heels of the recent Palo Alto City Council decision to only purchase 100% carbon neutral electricity. Palo Alto is one of only a few public entities who provide all utilites---gas, water, sewer and electric---to their residents and businesses. The City Utilities founders wanted to give the community the ability to decide where their supplies came from...and that foresight has paid off bigtime! If you haven't seen the rap video celebrating the "carbon free electricity" decision, you're in for a treat!
However, Palo Alto is not resting on its laurels. The City Utilities has many other ongoing initiatives in its quest for sustainable power, including a project to install high-efficiency LED streetlights throughout town, a Tech Innovation Program offering financial support to entrepreneurs with new ideas for how to improve customer and utility efficiency, a CustomerConnect pilot program investigating the use of advanced meters for improving efficiency and an[EcoHome demonstration building showcasing the latest efficiency measures. Not to mention the large selection of rebates and other incentives the City offers.
And all that's just for the electric utility! The City offers a slew of programs and services to improve water and gas use efficiency as well.