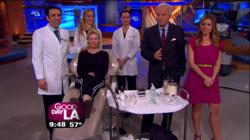 Los Angeles, California (PRWEB) June 09, 2013
According to a May 30, 2013 Fox News article titled "5 Foods That Make You Look Younger," the following five foods are important in the context of skin care, because they help keep the skin wrinkle free, supple, and looking younger (Go to goo.gl/QrTUw).
"Citrus fruits are generally rich in vitamin C and bioflavonoids," says Dr. Simon Ourian, Medical Director of Epione Beverly Hills. "The body relies on the former to produce collagen, which nourishes the skin and keeps it looking young, while the latter compounds protect the skin from damage caused by the sun's ultraviolet (UV) rays. I've incorporated both of these ingredients into my Signature Skin Care line of products."
The article says that the sweet potato is a powerhouse of beta-carotene which promotes cell turnover. In simple terms, this means shedding off dead cells to give way for new living cells. Secondly, it helps balance the skin's pH. Thirdly, beta-carotene keeps the skin well-oiled and as such, prevents it from drying out and ultimately flaking.
The tomato is another important food according to the report. The reddish color of the tomato is a product of a powerful antioxidant found in tomatoes called lycopene, which protects the skin from damage caused by exposure to direct sunlight. The rule of thumb is to eat tomatoes with olive oil in order to absorb as much of the lycopene as possible.
Finally, according to the report, leafy green vegetables such as kale and spinach contain lutein which protects the skin from developing wrinkles or inflammation caused by exposure to sunlight. The characteristic pink color of wild salmons is due to the presence of a potent pigment called astaxanthin that can stop free radicals from damaging the body's DNA and cell membranes resulting in healthy skin.
"One does not have to take a pill to have these compounds fight wrinkles on their skin," says Dr. Ourian. "One can achieve supple and smooth skin simply by eating the right foods."
Dr. Ourian has been a pioneer in laser technology and non-invasive aesthetic procedures including Restylane, Juvéderm, Radiesse and Sculptra. These treatments are used for the correction or reversal of a variety of conditions such as acne, acne scars, skin discoloration, wrinkles, stretch marks, varicose veins, cellulite, and others. More information about foods that benefit the skin can be found on Epione's website.