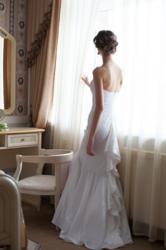 Newport Beach, CA (PRWEB) June 10, 2013
Today's brides are choosing to ignore the adage that pain is beauty by walking down the aisle in comfort and style wearing flats instead of heels. From casual brides to celebrities like Keira Knightley, flats are becoming the shoe of choice for their big day. (http://www.today.com/style/brides-go-head-over-heels-comfy-flats-1C9934019 05/15/2013).
"While brides undoubtedly want to look their best on their wedding day, they should also try to find something they can be comfortable in," says Brett Reynolds, CEO of Wedding.com. "Whether they are looking for a flowy wedding dress that forgoes the tight corset back or for shoes that forego five inch heels, brides have a long day ahead of them and shouldn't spend the entire time uncomfortable or in pain."
Even those brides who believe that it hurts to be beautiful are able to take advantage of today's wide selection of pretty flats. Not only are they comfy, but they are available in an assortment of colors, materials and styles, making it possible for any bride to find the perfect shoe to fit her wedding day personality. They can also be embellished with rhinestones, flowers or glitter to give D.I.Y. brides something to sink their creative teeth into.
Apart from the comfort aspect, long-legged brides are choosing to wear flats for a different reason. Fearing she'll tower over her groom in heels, tall brides are selecting flats to avoid a noticeable height difference during the vow exchange. They've also become popular among brides hosting a more casual wedding and those opting to wear a short wedding dress, as brides find flats create a better dress-to-shoe combination when it comes to the shorter hem.
Flats also create less work for already-busy brides. Instead of having to change from heels for the ceremony to flip flops, slippers or even bare feet for the reception, brides are able to transition a single pair of cute flats from morning to night.
Brides can expect to spend much of their wedding day on their feet. After a long day of walking down the aisle, standing at the alter and chatting with guests, followed by a long night of dancing, flat-wearing brides will find their blister-free feet thankful.
About Wedding.com
Wedding.com is an innovative new website that connects engaged couples planning their wedding with wedding vendors looking to grow their business. Wedding.com contacts vendors for couples, giving them the power to compare and negotiate while ultimately saving time and money. With 15,000 couples and 25,000 vendors currently using the website, 150,000 proposals have already been sent since their inception. Vendors range in services from wedding planners, photographers, florists, and DJs to custom invitations, party favors, and much more. For additional information about the company and its services, please visit Wedding.com.