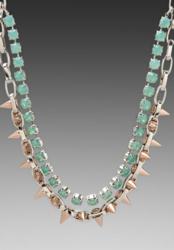 The second I saw this line, I knew I had to get it on REVOLVE immediately.
Los Angeles, CA (PRWEB) June 07, 2013
Luxury jewelry line, Joomi Lim, is now available at REVOLVEclothing.com. Best described as rock 'n' roll chic, the collection of fashion-forward accessories is a juxtaposition of hard and soft achieved by fusing beautiful jewels with unusual materials. Joomi Lim was designed for the fierce, yet feminine woman who wants to add a dose of edgy appeal to her look, making it an ideal addition to REVOLVEclothing.
The REVOLVE customer is a woman who wants to stand out in the crowd. In must-have Joomi Lim jewelry, crafted with opals, spikes, mixed metals, and unique touches, she'll do just that.
"My latest obsession is Joomi Lim jewelry. The second I saw this line, I knew I had to get it on REVOLVE immediately. This New York-based jewelry line consists of rock 'n' roll inspired statement pieces using spikes, crystals, and fringe. Our REVOLVE girl is fun and fresh and always looking for the next best thing, so adding one of the metal-luxe rainbow spiked bracelets to the wardrobe will take her jewelry collection to the next level," said REVOLVEclothing buyer, Cori French.
Providing over 500 men's and women's labels, REVOLVE is the premiere destination for luxury fashion. To find Joomi Lim's glam rock bracelets, necklaces, and earrings, along with other leading labels, visit REVOLVEclothing.com.
About REVOLVEclothing:
REVOLVEclothing.com is a leading eRetail site offering the latest designer names to men and women. Home to a large selection of high-quality apparel, shoes, and accessories – all with free shipping and returns, plus a 30 day price match guarantee – REVOLVEclothing provides an unparalleled online shopping experience. To shop REVOLVE visit REVOLVEclothing.com.
For more information or hi-resolution images, please contact Charina Scott at charina.scott(at)revolveclothing(dot)com.