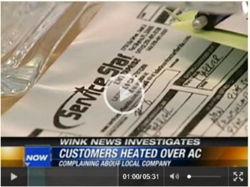 Bills from unskilled or unethical AC contractors can turn into a chilling surprise - running into thousands of dollars.
Dallas, Texas (PRWEB) June 07, 2013
Recent TV reports highlight a common problem this time of year -- unskilled or even unethical air conditioning contractors trying to take advantage of homeowners desperate to keep their homes cool and comfortable during summer's hottest days. Unfortunately, their bills can often turn out to be a chilling surprise - running into the thousands of dollars for unnecessary work or work that could have been done for much less.
Service Experts, North America's largest heating and air conditioning service brand, recommends reviewing and following these guidelines to avoid these AC repair scams:
Cold-calling. Unsolicited telephone calls from a company aren't automatically bad. But, to ensure the call is from a legitimate company, always ask for a written estimate to prove the contractor will stand behind the price they offer for a service. Ask for written 100% satisfaction guarantee. Also be sure to understand your equipment's manufacturer warranty; your product may still be under a warranty.
High-pressure tactics. Rather than being a professional consultant helping a customer make decisions based on their best interests, high-pressure tactics might be used to persuade customers to make rash, immediate decisions. Avoid making quick decisions based on scare tactics and get a second opinion for any major repair.
Questionable office and phone. Instead of an actual office or an official business phone line that rings to a professional customer support person, every call is handled by an answering machine or rings to a cell phone. Often in the evening, the only answer may be a personal voice mailbox or no answer. Also, a company with little or no professional literature (including a web site) may be questionable.
Only seasonally available. These operations seem to come out of nowhere. Check local city licensing or business department to see how long their business has been licensed or in operation. Legitimate companies are available all year. Check for a Better Business Bureau accreditation and rating (http://www.bbb.org). If they are not listed or not rated, the contractor may still be legitimate, just get references and confirm they are really reputable. If there is a low rating, avoid working with that person.
Service Experts Heating & Air Conditioning, based in Dallas, Texas, is North America's largest heating and air conditioning brand, with over 108 locations serving more than 2,100 homes and businesses per day. Service Experts branches provide heating repair, air conditioning repair, indoor air quality sales, HVAC system sales and installation, HVAC maintenance and HVAC repair service for both the residential and commercial HVAC markets. Find Service Experts Heating & Air Conditioning at on.fb.me/serviceexperts or at ServiceExperts.com.