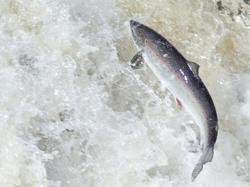 Controlling the Greenland fishery is fundamental to conserving and restoring wild Atlantic salmon runs in North America,
-Bill Taylor, ASF
St. Andrews, NB (PRWEB) June 10, 2013
The Atlantic Salmon Federation (ASF) is extremely disappointed that the North Atlantic Salmon Conservation Organization (NASCO) has been unable to stop factory sales of wild Atlantic salmon in Greenland and has also failed to put a limit on Greenland's subsistence fishery, according to Sue Scott, ASF's VP of Communications and co-chair of NASCO's 34 non-governmental organizations (1). The salmon harvested in Greenland originate from rivers across eastern North America, where the vast majority of salmon populations are protected under federal species at risk legislation in Canada and the US (2).
Ms. Scott addressed the meeting of the West Greenland Commission, where the regulatory measure for Greenland's fishery was discussed, "The advice of the International Council for the Exploration of the Sea (ICES) is very clear, there should be no harvest at Greenland where stocks from North America and southern Europe feed (2). An essentially unlimited fishery at Greenland is totally against ICES advice and gives us no confidence that NASCO can effectively conserve and protect vulnerable salmon that are being over exploited in fisheries, not only in Greenland, but throughout the North Atlantic".
Bill Taylor, President of ASF said, "This is what we have been fearing – the day that Greenland becomes fed up with continuing to limit its harvest while year after year seeing other Parties overharvest salmon and continue their own mixed- stock fisheries". Canada is amongst the other parties that currently harvest Atlantic salmon.
At the meeting, when Canada raised objections to Greenland's factory sales, the representative from Denmark reminded Canada that its harvest was six times greater than Greenland's. "It's easy to understand Greenland's position", says Mr. Taylor, "because in Canada, anglers and First Nations killed 135 tonnes of salmon last year, which is equivalent to 63,000 fish (2)". The Greenlanders are unwilling to continue to bear the burden and sacrifice of conserving salmon while other countries like Canada allow the killing of several times more salmon than they do".
According to Ms. Scott, the United States tabled a proposal at the West Greenland Commission for either no further factory sales at Greenland in 2013 and 2014 or a limited factory sale quota of 15 tonnes and further negotiations towards a limit on all of the salmon fisheries at Greenland. Unfortunately, the proposal did not receive unanimous agreement by the Commission as required by its rules (1). "NASCO's inability to control the Greenland fishery is disastrous for US salmon, where stocks are at their lowest levels in history and protected under the Endangered Species Act" said Taylor.
When Greenlanders begin fishing in August, a season that generally lasts three months, there is now potential for 35 tonnes of factory sales plus an unlimited subsistence harvest, says Ms. Scott who attended the NASCO meetings (1). If the subsistence fishery reaches 40 tonnes as it did in 2010 (2) and the factories reach their quota, we could be facing a harvest of 75 tonnes, which is about 22,000 salmon this year at Greenland. "Going into this meeting," said Mr. Taylor, "we were concerned that the harvest of 34 tonnes in 2012 (2) was far too much for vulnerable wild Atlantic salmon in North American rivers to sustain. Now we could be looking at twice that. This will be devastating to populations in North America, which in most years comprise about 80% of the Greenland harvest (2), and a terrible blow to all populations of wild Atlantic salmon in Canada, the US, and southern Europe, driving more populations towards threatened and endangered status".
Denmark believes that the internal harvest will be controlled by market demand within Greenland. With factories sales now permitted, salmon that were formerly sold as fresh fish, can be frozen and available on the market year round. If each of Greenland's citizens eats just one wild salmon this year, then the market in Greenland could potentially support an internal harvest of 60,000 fish.
Bill Taylor and Orri Vigfusson of the North Atlantic Salmon Fund (NASF) of Iceland have committed to work directly with Greenland and its fishermen outside of NASCO, to discuss the possibility of a private sector agreement that would result in more conservation-oriented measures. "Despite NASCO's best efforts it has failed to control the Greenland salmon fishery. This reaffirms the need for a private sector deal, hopefully with government participation, that will limit Greenland's harvest", stated Mr. Vigfusson.
ASF and NASF had a private-sector agreement with Greenland's fishermen from 2002-2009 (3). During that period ASF and NASF invested in alternative economic development opportunities for Greenland's salmon fishermen, in exchange for the voluntary suspension by the fishermen of their right to fish salmon commercially. The Agreement allowed Greenlanders to conduct a modest subsistence salmon fishery that ranged between 10 – 25 tonnes (3000 – 7500 salmon) annually.
"Controlling the Greenland fishery is fundamental to conserving and restoring wild Atlantic salmon runs in North America. ASF and NASF are committed to doing everything reasonable and possible to negotiate an agreement for this season that conserves salmon, while respecting Greenland's international rights", says Mr. Taylor.
(1) Salmon Stocks are down in Eastern Canada. CBC Radio, West Coast Morning. June 7, 2013. http://www.cbc.ca/player/Radio/Local+Shows/Newfoundland/ID/2390050805/
(2) Report of the ICES Advisory Committee (2012). ICES Advice 10, CNL (12) 8: http://www.nasco.int/pdf/2012%20papers/cnl_12_8.pdf
(3) Agreement between The Organization of Hunters and Fisherment of Grenland (KNAP) and the North Atlantic Salmon Fund (NASF). 2002. http://www.ctriversalmon.org/news/2002_Cons_Agreement.html