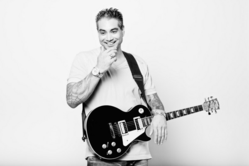 I have experience giving Fort Lauderdale guitar lessons to hundreds of students for well over a decade in the Fort Lauderdale area, I have the experience and know how to take you further than you ever dreamed on your guitar.
Fort Lauderdale, Florida (PRWEB) June 10, 2013
The central, convenient location of Kimura's new teaching location makes it easier than ever for locals to take Fort Lauderdale guitar lessons. In fact, Kimura—who is an I.C.E certified Fort Lauderdale guitar teacher—offers a convenient way for anyone in the world to take guitar lessons with him from the comfort of their own home (or wherever they have a device with a high-speed Internet connection and webcam). These virtual lessons are offered through the program Skype, a webcam platform that is currently used by more than 600 million people worldwide.
"I absolutely love it when I get to connect with players internationally through Skype," Kimura said.
Skype guitar lessons are nothing new; in fact, the New York Times has reported that music lessons online have been rapidly increasing as technology continues to advance. The publication spoke with one music teacher who claims to have students, including children, learn how to play an instrument entirely from virtual lessons and without any face-to-face meetings with the instructor.
Not only do lessons on Skype prove to be advantageous for those living far from their preferred music instructor, but there are other benefits to consider as well. Virtual lessons save the student from dealing with traffic, rising gas costs, poor weather conditions, schedule limitations, and much more. As an added bonus, Skype lessons can often be recorded, so students can play back a previous lesson and learn from it again and again, making each lesson that much more valuable.
Parents with hectic schedules are also taking a liking to virtual lessons, and more and more have been choosing Skype as a way for their children to learn a new instrument. And Kimura does not only teach adults how to play the guitar, but he also teaches teenagers and children ages five and up.
For a 15 percent discount on the first lesson with Fort Lauderdale guitar teacher Dyce Kimura, be sure to mention this article. To learn more about Dyce Kimura and for directions to his new Hollywood, Florida location for Fort Lauderdale guitar lessons or how to get started with Skype lessons, be sure to visit him on the web.