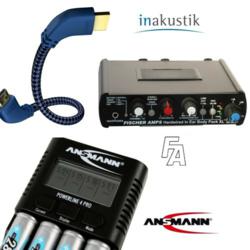 Many times the weakest link to securing high-quality sound and video is the choice of cables
Blackwood, NJ (PRWEB) June 10, 2013
Ansmann is pleased to announce partnerships with two of Germany's top AV manufacturers, in-akustik and Fischer Amps.
The Ansmann name is known throughout the Pro AV industry - as its name is synonymous with top quality rechargeable systems for wireless applications. With a client list that includes Cirque du Soleil, Blue Man Group and many of the major production companies, Ansmann is the "go-to source" for high capacity rechargeable batteries, battery chargers and maintenance devices.
With the addition of in-akustik and Fischer Amps, Ansmann extends its reach with products for the high-end home audio video market and professional stage performer. In-akustik manufactures "reference" quality HDMI cables, speaker cables, connectors and components. "Many times, the weakest link to securing high-quality sound and video is the choice of cables," states David Schliep, National Sales Manager for Ansmann, In Germany, in-akustik produces cables that have become the industry standard for excellence."
Fischer Amps product line is an extension of the Ansmann battery charger options including various professional rackmount chargers as well as high quality hard-wired in-ear monitoring systems for stage performers. "If you're looking for superior sound and do not require a wireless set-up, than the Fischer Amps product is the way to go," adds Schliep.
With the new North American distibution line open, Ansmann plans to offer these products to the existing dealer network as well as new resellers within the various markets. Both product lines can be previewed at Infocomm 2013 in Orlando FL. June 12-14, Booth #122.