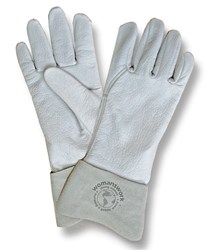 Pawling, NY (PRWEB) June 08, 2013
Womanswork is pleased to announce it will be manufacturing a line of leather garden and work gloves for women and men in the USA starting this Fall. The unmatched quality of domestic leather, and a desire to manufacture in the US, led Womanswork President, Dorian Winslow, to develop this exclusive line of gloves with a US partner.
The new product line for women consists of an elbow length glove for rose gardening made with thorn stopping suede pigskin ($44); a short pigskin glove made with the same velvety suede pigskin ($32); a natural pale gray goatskin glove with gray suede cuff ($34); and a cowhide work glove ($30). All styles are designed in women's sizes S, M and Lg. The cowhide glove will also be available in sizes for men.
"There are plenty of producers of leather work gloves, but very few who are manufacturing in the US," says Dorian Winslow. "And most glove makers simply downsize their men's gloves and label them "Ladies". At Womanswork women are our primary target so a lot of effort was put into fine tuning the sizing to create new patterns that are form fitting for a woman's hands. Women's and men's hands are shaped differently, and that is a subtlety lost on many other manufacturers."
Womanswork also manufactures in the USA a line of After Gardening skin care products called Womanswork Spa, and the popular Garden Wheel garden planning product line.
Womanswork® is a company dedicated to designing products customized for women who garden and work outdoors. "Our products are designed by women gardeners for other women gardeners. Our products are both practical and stylish," says Dorian Winslow. For a free catalog, call toll free 1-800-639-2709, or visit http://www.womanswork.com.