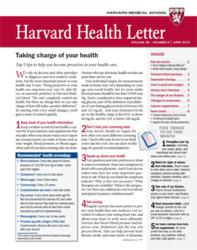 Boston MA (PRWEB) June 10, 2013
As summer beckons people outdoors for a bevy of activities, those limited by hip and knee pain due to arthritis may be wondering if it's time for joint replacement surgery so they can be active again. But surgery isn't generally the initial go-to method of treatment, reports the June 2013 Harvard Health Letter. "Exercise and weight loss are usually the first line of defense. They may help prevent the pain and even prevent surgery," says Dr. Eric Berkson, an instructor in orthopedic surgery at Harvard Medical School.
Exercise, especially activities that strengthen the muscles that support the knees and hips, is one key to avoiding surgery. The quadriceps in the front of the thigh and the hamstrings in the back are important to knee strength. Every time you walk or do any weight-bearing activity, the quads absorb the shock. The stronger your quads are, the less load that gets transferred into the knee. The gluteal muscles in the buttocks and flexors in the pelvis are important for hip strength and flexibility.
Weight loss is another key to avoiding joint-replacement surgery. Every 10 pounds of excess weight puts an extra 30 to 60 pounds of pressure on the knee and hip joints. Shedding pounds can reduce that pressure. "Even a 10-pound weight loss can make a huge difference," says Dr. Berkson.
Read the full-length article: "Avoiding knee or hip surgery"
Also in the June 2013 issue of the Harvard Health Letter:

Five tips for becoming more proactive in your health care
What to do when blood pressure resists control
Urinary tract infections aren't always easy to identify
The Harvard Health Letter is available from Harvard Health Publications, the publishing division of Harvard Medical School, for $16 per year. Subscribe at http://www.health.harvard.edu/health or by calling 877-649-9457 (toll-free).