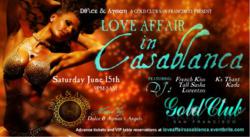 We're going all out for this party with the hottest ladies and DJs in town all under the same roof.
San Francisco, CA (PRWEB) June 08, 2013
Dolce & Ayman and Gold Club, the best upscale gentlemen's club in San Francisco, present "Love Affair in Casablanca" on Saturday, June 15, 2013. This special evening of seduction features live performances by DJs French Kiss, Tall Sasha, Lorentzo, Ks Thant and Kada.
"Any time we can feature Dolce & Ayman's Angels, we know it's going to be an event done right," said Gold Club Marketing Director Axel Sang. "We're going all out for this party with the hottest ladies and DJs in town all under the same roof."
It's events like "Love Affair in Casablanca" that helped make Gold Club San Francisco's Best Adult Club of 2013 for the third year in a row according the SF Weekly readers. With two floors filled with amenities like concierge services, VIP sky boxes, large party accommodations, champagne rooms and a fine dining menu, Gold Club is the leader in hi-end adult entertainment.
Advance tickets and VIP reservations for "Love Affair in Casablanca" can be made at http://www.goldclubsf.com . This special event is going till after-hours from 9 pm to 5 am. Gold Club doors open at 7 pm on Saturday.
For more information about this event or others at Gold Club, call (415) 536-0300 or come by the club, located at 650 Howard Street in downtown San Francisco—1 block from the Moscone Center.
Gold Club's team encourages adults to like them on Facebook at facebook.com/goldclubsf, follow them on Twitter at @GoldClubSF, check them out on YouTube at youtube.com/user/goldclubsanfrancisco, and read their reviews on Yelp at yelp.com/biz/gold-club-san-francisco.
About the Gold Club
The Gold Club, winner of SF Weekly's Best Adult Club honor 3 years running in 2011, 2012 and 2013, is a world-class gentlemen's club conveniently located in the heart of downtown San Francisco. With over 200 of the most erotic and exotic entertainers, a fine dining restaurant, five fully stocked bars and VIP skybox service, the Gold Club is the premier venue for adult entertainment in San Francisco.
The Gold Club recognizes the value of customer satisfaction and consistently succeeds in supplying a highly entertaining and sensual experience to all guests. Outstanding special features of this San Francisco strip club include concierge services, champagne rooms, bottle service tables and booths, free secure WiFi access, limo services, and valet parking. The Gold Club is a popular destination for San Francisco bachelor parties, business meetings, or just a fun time out with friends in a comfortable, upscale environment.