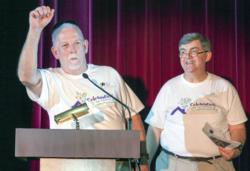 Pitman's culture of safety reduces the risk of harm through prevention, awareness and best practices for everyone who lives, works or visits.
Pitman, NJ (PRWEB) June 09, 2013
Pitman Manor received the Community Safety Award during a recent gathering of associates from all 10 United Methodist Homes of New Jersey communities. This honor recognizes Pitman Manor for their leadership, innovation, positive outcomes and engagement. The safety program was developed in consultation with associates, which currently stands at about 225, who give strong and tangible support to the program.
President and CEO Larry Carlson declared, "This culture of safety brings positive outcomes everyday for everyone who lives, works or visits Pitman Manor. It greatly reduces the risk of harm through prevention, awareness and best practices. The associates have been successful in saving vital human and financial capital, allowing us to focus on our mission."
The program has incorporated innovation in addressing organizational and cultural challenges, which in turn, have made a positive impact on the challenges identified and achieved its stated objectives. Pitman Manor possesses the best overall safety record among all our communities.
The unprecedented event, titled Celebrating the Power of Community, brought together associates, guest speakers from the board of directors, LeadingAge, United Methodist Association and others. The keynote speaker, Jana Stanfield, humorist, musician, songwriter, and educator, delivered large doses of inspiration.
An interdisciplinary Awards Committee sorted through nominations and determined the winners. These included four associate awards, the Emerging Leadership Award, John Wesley Ministry Award, United Methodist Homes Hospitality Award, Star Award; and two community awards: Community Safety and Celebrating the Power of Community. All associates were able to submit one choice for each of the six awards along with their reasons.
United Methodist Homes is a not-for-profit organization guided by a volunteer board of directors affiliated in ministry with the Greater New Jersey Annual Conference of the United Methodist Church. The mission of the United Methodist Homes is to provide quality and caring services to senior men and women in a Christian community. With over 106 years of continuous operation, the organization has grown to ten communities offering independent, residential, assisted-living, skilled nursing, short-term rehabilitation, memory support, respite, and hospice to persons of all faith backgrounds. For additional information call Pam Mezis at 856-589-7800.